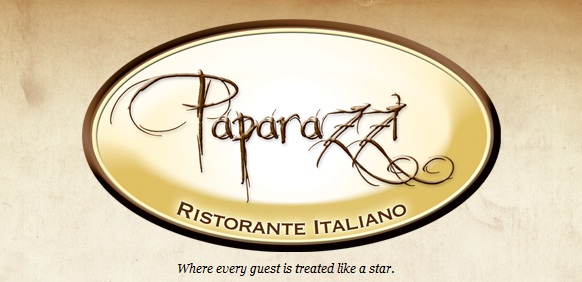 We went out Friday night to celebrate 23 months of dating bliss. I was really excited to hear we'd be trying out a new restaurant in North Raleigh: Paparazzi Ristorante Italiano. Paparazzi is located in the new Lafayette Village off of Honeycutt Road and Falls of Neuse Road.
We arrived around 7:15 and the place was busier than I thought they would be. We have driven past the plaza a few times and it usually seems pretty empty, but that night we had to drive around a few times to find a parking spot.
Lafayette Village is really a unique place with several shops and restaurants. There's a fountain in one of the courtyard areas and the way the building is designed, you really feel like you are in a European village.
We walked over to Paparazzi and were greeted by two hostesses. You could smell the woodfire grill cooking up something delicious and I couldn't wait to see the menu. We didn't have a reservation but were seated in less than five minutes (which is a bit of a miracle for a Friday night).
Our server arrived and launched into his welcome, handing us the menu and detailing the specials. I had to ask him a few times to repeat a few items he mentioned since he said the dish names with a bit of an accent and I had no clue what he was talking about.
He asked if we'd like a drink and I deferred to my date: "Hmmm, I don't know. Are you going to get something?" He said he was fine and would start off with water and looked back to me for what my final choice was but the server muttered a "very well" and went off. I supposed I'd be getting a water as well, unless he could read my mind and was going to bring me the amaretto and cola drink I was craving (he didn't).
I tried to find something familiar on the menu but didn't have much luck. A lot of the items sounded good but had ingredients that I were unsure of. I hate to eat something if I don't know that I'll enjoy it, especially at a restaurant where I have to pay for something I end up not liking. I didn't want seafood, pizza or steak and was hoping for a cheese-stuffed pasta. Fortunately one of the specials of the day was a 4 or 5 cheese ravioli so I decided on that and my date picked a chicken Parmesan dish.
Our server returned to take our order. I thought it was weird that he asked my date what he wanted first (I've almost ALWAYS been asked first what I want, and when I worked as a server, I also asked the female first out of courtesy.) and that he didn't have eye contact with me when I placed my order. Whatever, I figure he's just busy. Unfortunately he came off as pretentious.
We were so hungry and were hoping for some bread (other tables had a tin of what appeared to be bread, but it was a few minutes til we got one. It contained 3 slices of cold Italian style sliced bread, no butter). We also hoped there would be a salad with our meal but there wasn't.
We devoured our bread and weren't given a refill which was disappointing. Maybe they wanted to keep us waiting for our meals so we'd eat everything? Our meals finally did arrive and looked delicious. My sauce was wonderful – I think it was a vodka sauce. The ravioli were a little too al dente for my taste; had they been any more so I would not have been able to eat them. The cheese inside was heavenly though!
My date enjoyed his chicken and pasta. I took a taste but didn't care for the sauce that was used. It was a red sauce with red pepper which isn't something I was used to. If you enjoy that sort of sauce, you'd really enjoy this dish.
In all, eating at Paparazzi was a bit of a fizzle for us. Their slogan is "Where every guest is treated like a star." Unfortunately, I felt more like the hired help. We had to wait for refills on our water, never got more bread and didn't hear from our server sans order taking and delivery.
The atmosphere is really neat when you walk in, but the two-top tables are so large, you can't hold an intimate conversation since you are so far away from each other. You have to speak loudly over the noise of other diners and it is likely those seated next to you would be privy to your conversation.
Another thing we did not like is the server and management staff standing against the wall behind our table. One set of managers (shirts, ties) appeared to be discussing business while the server just chilled out and kept an eye on the dining room. I felt like we had to hurry and eat so we'd be out of their way. I didn't feel like I could relax at all. One server was filling the water glass at the table next to us and went too close to the top of the glass with the water level. Our server stood behind the patron making the "stop" motion (she didn't see him because she was looking at the glass). The water didn't spill but he took the glass away and brought a new one out filled within about a half-inch of the top.
This restaurant is a bit of a paradox to me: you're supposed to be treated like a star and waited on hand and foot, but you gotta wait for a refill of water and don't get seconds on bread – if you do I'm wondering if I have to ask for them? If not, please take away the empty bread dish. I'd really have liked a salad, too. If your management and staff are going to hang out in a casual manner and discuss business so close to your patrons, then make your restaurant more casual, not a presumptuous/stuffy/high class/laid back sort of place. I felt really confused by the whole experience.
Having said all that, I'd say the place warrants another trip in the future. This time I'll bring my own bread to snack on while we wait, though.