We were in the mood for Mexican food, so we headed over to Torero's Mexican Restaurant, located in the Millbrook Collection Shopping Plaza, at 4721 Atlantic Ave, Suite 101, Raleigh, NC 27604.
Atmosphere
The atmosphere at Torero's can best be described as a fiesta for both your eyes and your stomach. Given the location and surroundings of the restaurant, you don't expect much. However, when you step inside, you feel like you are stepping into a festive party. There is generous outdoor seating on a separate, enclosed patio.
The interior of the restaurant is colorful and decorated with black and white checkered tiles, bright, multi-colored walls, artwork, and Mexican-themed paper decorations hanging from the ceilings. There is a ton of natural light towards the front and center of the restaurant, while the back portion is windowless but well-lit. In the mood to catch the latest fútbol game? There is definitely no shortage of flat screen TVs here! Whether you're sitting at the bar, or seated elsewhere in the restaurant, you've got the best seat in the house.
Below, we tried and reviewed three separate lunch specials at Torero's. Lunch specials are available at this Raleigh location Monday through Fridays only, from 11:00 a.m. to 4:00 p.m., and Saturday/Sunday from 11:00 a.m. to 3:00 p.m.
Fajita Quesadilla (Chicken) + Soft Drink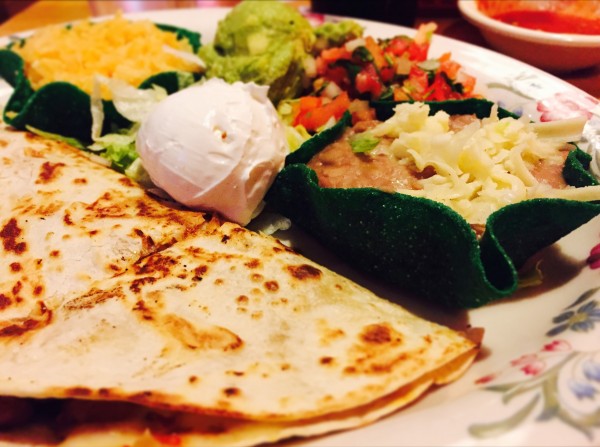 Cost: $7.95 + $2.25
The Fajita Quesadilla consisted of a crispy flour tortilla filled with cheddar and Monterrey Jack cheese, pico de gallo, and your option of chicken and/or steak. The dish was served with a side of sour cream, guacamole, and a choice of refried beans or Rancho beans, and Mexican rice.
The presentation of the meal was very simple. I LOVED how they served it with separate, edible taco cups. One was filled with refried beans, and the other was filled with rice. It kept the overall meal neat. The pico de gallo tasted ok, but it the avocado could've been a little more fresh. The chicken was cooked well, and the overall flavor was decent. I just wish they had better flatware. The knife was so dull, and it made it difficult to eat my meal.
Fajita Taco Salad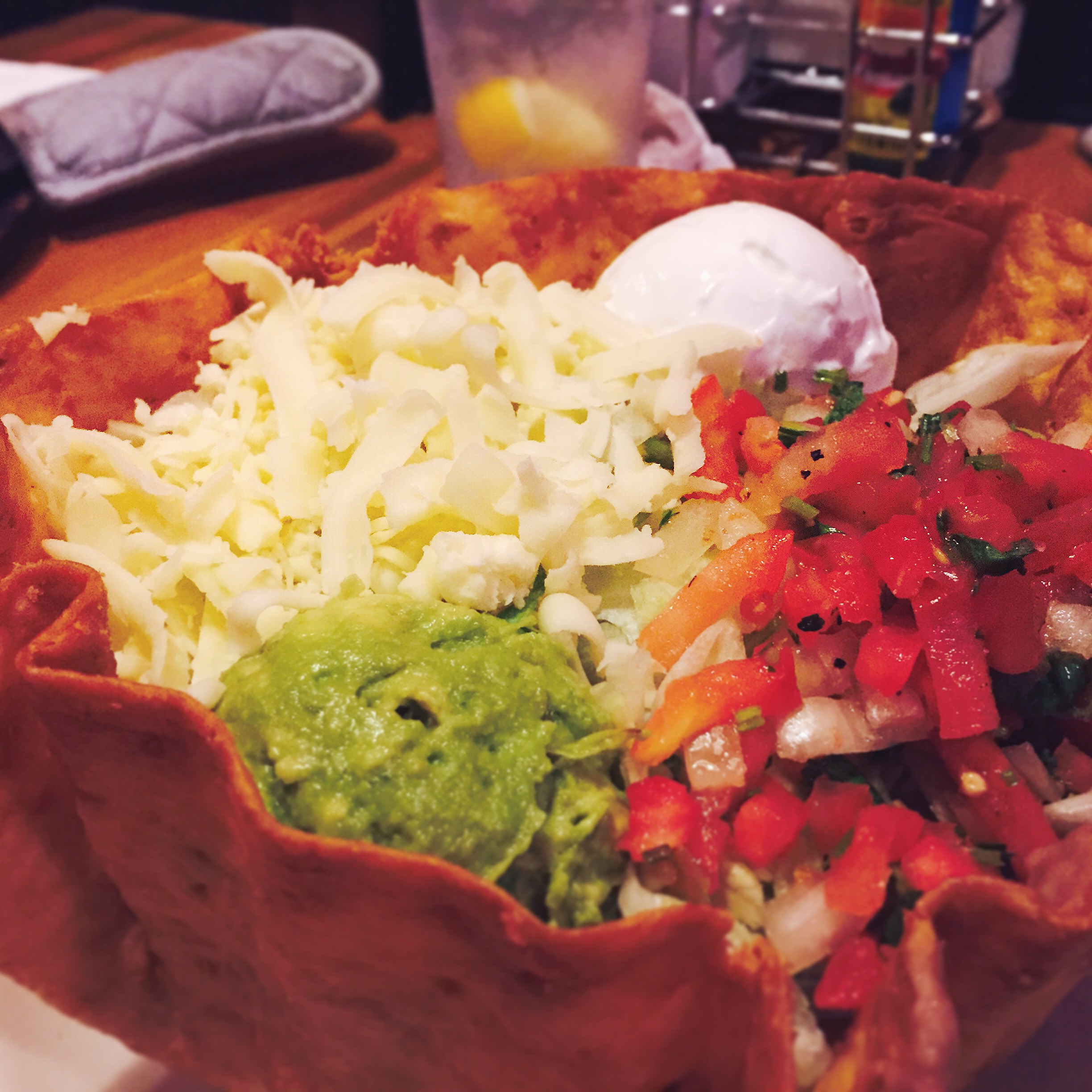 Cost: $7.95
The FajitaTaco Salad consisted of a giant flour tortilla shell filled to the brim with: grilled onions, bell peppers, your option of steak and/or chicken, rice, beans, salsa ranchera, lettuce, sour cream, and guacamole. Picture Elaine's "Big Salad" from Seinfeld.
Three words: HUGE and CHEAP. Everything on their lunch menu was priced at a great value. Everything was very well thought out. Even the appetizer of chips and salsa was served with individual salsa for each person. The Taco Salad was great. It was served in a golden-brown shell, along with a healthy serving of chicken and guacamole. The flavor was great, and they didn't skimp on anything – especially with it being so affordable!
Fajitas with Black Beans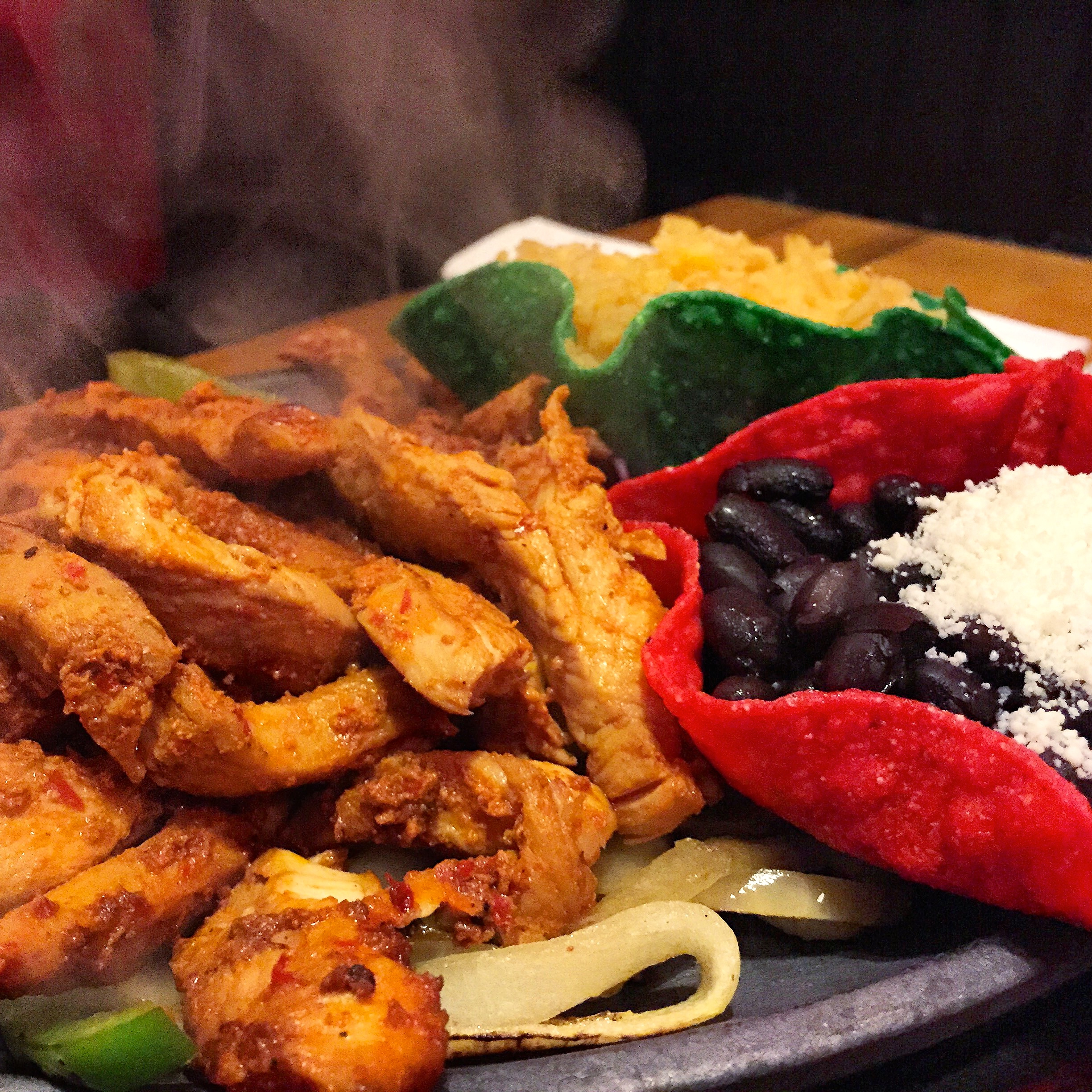 Cost: $7.95
The Fajitas consisted of a half serving of your choice of chicken and/or steak. The meat is then served sizzling hot over sautéed onions and green peppers. You have a choice in sides – either refried beans or Rancho (cholesterol-free) beans. Mexican rice and corn tortillas are served on the side, along with: lettuce, pico de gallo, cheddar cheese, sour cream, and guacamole.
This meal was a great value. The service was good and quick, and it makes for a good office lunch- especially if you need to get back quickly. You received a great amount of food for the price (great value). While the food tasted great, and the atmosphere was nice, the one gripe I had was that the guy up front was not really friendly. To his credit, however, he was fast and professional.
Overall, Torero's was a great experience. You truly got a decent amount of food for the price that you wound up paying. Besides, where else can you snag a meal for three adults for under $30?
Total: $28.12 (not including tip)