This week, we decided to dine out, Greek-style, and Taza Grill did NOT disappoint! With a variety of daily menu specials to choose from, there is something for even the most picky foodie out there.
Located in the busy Sutton Square shopping plaza at 6325 Falls of Neuse Road, Taza Grill is easy to miss. The restaurant is anchored in the corner of the shopping plaza, and it is convenient to The Fresh Market (next door) as well as plenty of other shopping.
Atmosphere at Taza Grill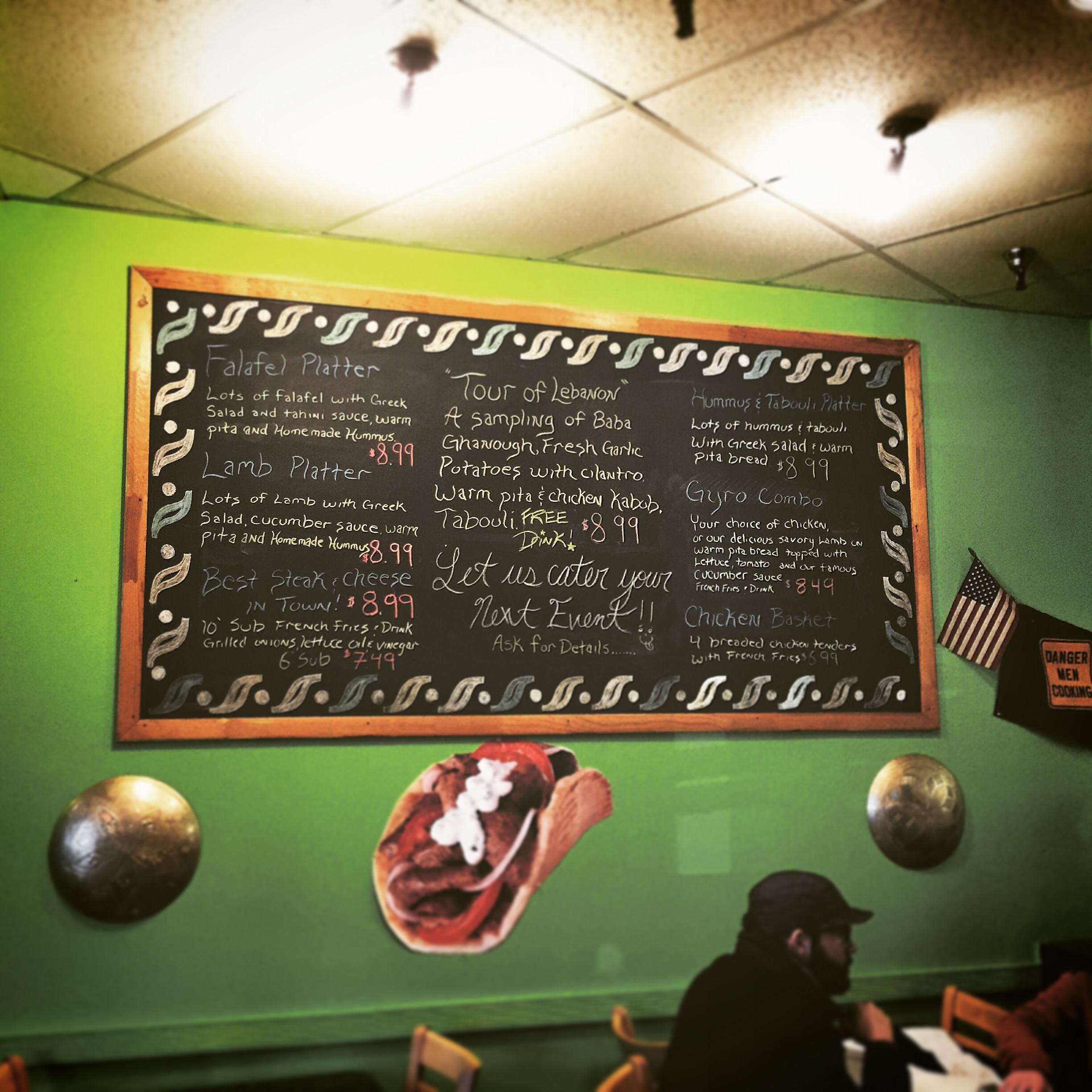 Just before you walk into Taza Grill, you walk into an open-air, partially enclosed terrace area. While we didn't sit outside (due to the chilly winter air), it is easy to see how inviting the outdoor seating will be once the weather warms up. The terrace area is expansive and covered, allowing for plenty of fresh air while protecting you from the capricious North Carolina weather.
Step inside the door to Taza, and you are immediately greeted by the warm, rich smells of authentic, Greek-style cuisine. Employees work diligently behind a clear, glass divide that allows you to see the fresh food cooked right in front of you. Meat is sliced, diced, and cooked to order, and the different toppings are arranged neatly and within close enough view for you to point out your meal additions.
We stepped in for lunch right around 12 noon; and while it was bustling, it wasn't too crowded. We easily placed our order, found our seats, and sat down to enjoy our meal. By the time I whipped out the credit card to pay, one of our orders was ready to go. Shortly after, the other orders followed. The speed and accuracy of our orders (no mistakes made) was only complimented by the employees' professionalism – which was both kind and calm despite being busy.
After we sat down and began to eat, the lunch rush kicked into full swing. The music, friendly chatter, and wonderful smell of mediterranean food gave way to a warm, inviting atmosphere that made you feel right at home.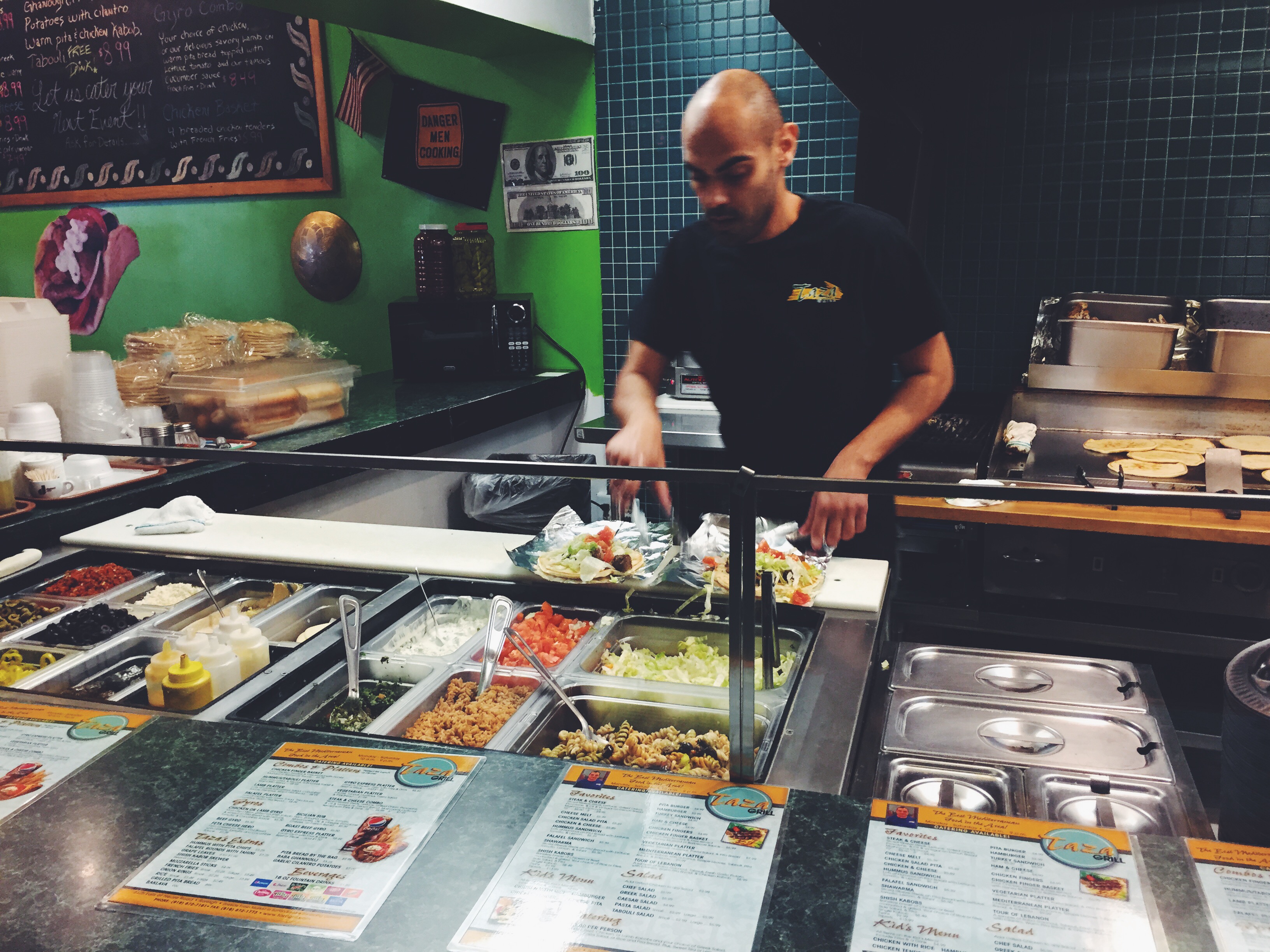 The only downside to Taza Grill is that it tends to get a little smokey at times, due to the proximity of the grill to the dining area. While it's great that you are able to see your food being prepared, the smoke was visible and seemed to spill out into part of the seating area. While this was brief and intermittent, it is something worth mentioning. Also, seating may be an issue depending on the time of day you decide to dine in.
We were lucky to have arrived just before the lunch rush. However, if you're planning on dining in, it would behoove you to go just before or just after the lunch crowd. The seating situation is likely better during the warmer weather months, when folks have the option to sit outside. On the upside, the majority of the crowd seemed to be time-sensitive, eating fairly quickly before dashing out to get back to work.
Falafel Platter
Cost: $8.99
The Falafel platter consisted of a generous serving of falafel served with a freshly made Greek salad. Tahini sauce was served on the side. Hummus was dolloped neatly onto the plate, along with warm pita bread. The meal also came with your choice of a fountain beverage.
According to our LTTR staff member, the Greek salad was "..one of the best Greek salads [she's] ever had". Overall, the entire meal was delicious, and she would definitely order it again.
Gyro Express Platter (Chicken)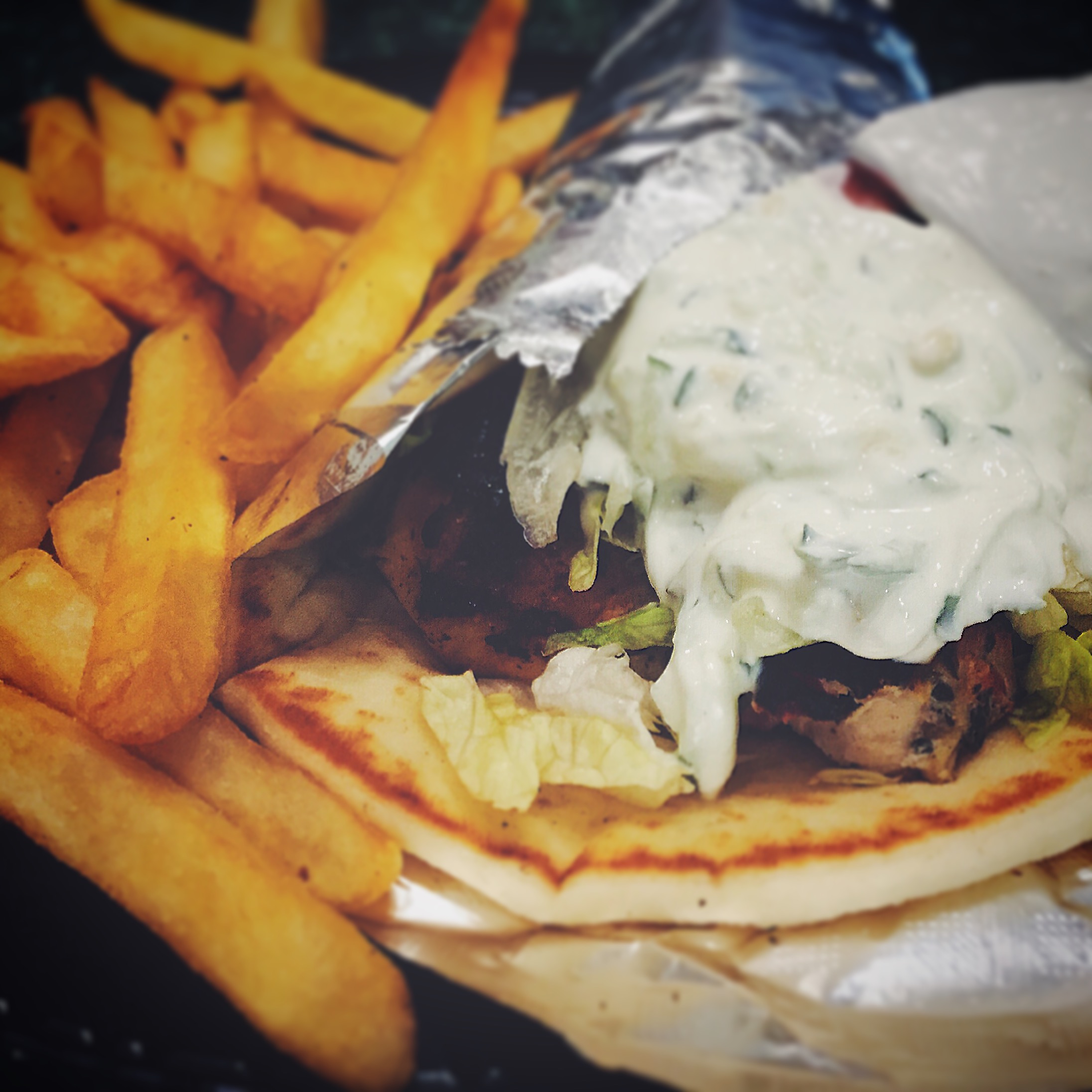 Cost: $8.49
The Gyro Express Platter came as a meal deal. You get your option of meat to fill in, and the meal is served with french fries and a fountain drink. The meat choices are, chicken, lamb (traditional), steak, or beef.
If you plan to order the steak or beef in your gyro, plan to pay an additional $1.50.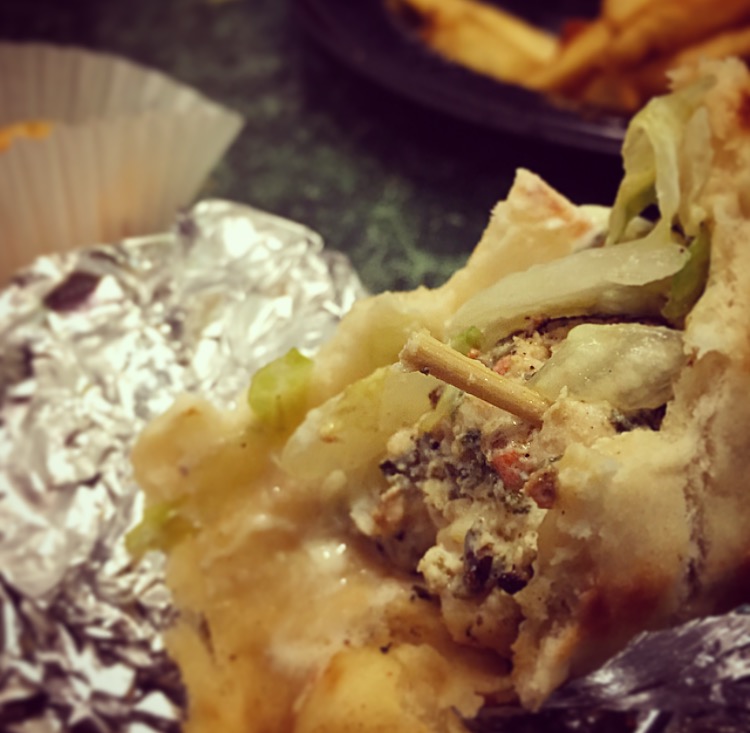 According to our LTTR diner, who chose the chicken option, the overall meal tasted good. However, he experienced an unpleasant surprise when he bit down into what he thought was a bone. It turned out that Taza had mistakenly placed (or misplaced) a skewer into the meat of the gyro. While this wasn't a total meal crusher, it certainly put a damper on the overall experience.
According to our LTTR diner, the overall meal "tasted good". He commented on the spices tasting strong but flavorful. The biggest meal thrill was the tzatziki sauce, which "tasted great".
Gyro Express Platter (Lamb)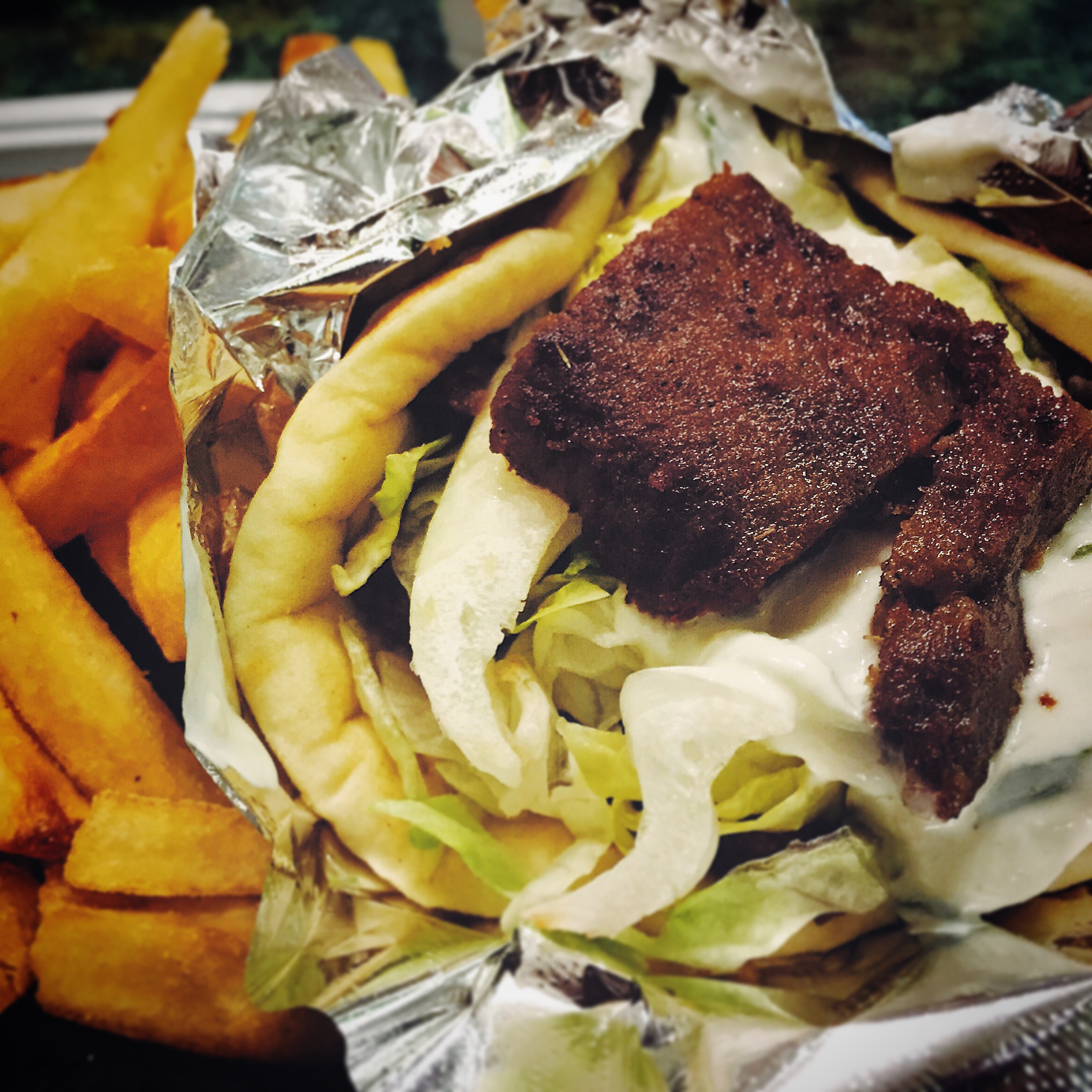 Cost: $8.49
I followed suit and ordered a Gyro Express Platter as well. However, I opted to go the traditional route and chose lamb as my filling. The meal came with french fries and a drink. The gyro was DELICIOUS. The lamb was tender and cooked thoroughly. The fries were crisp without being greasy, and the thing I loved most about the fires? They hardly had any salt on them (which was a huge plus for me).
I would order this meal again in a heartbeat.
Dessert – Baklava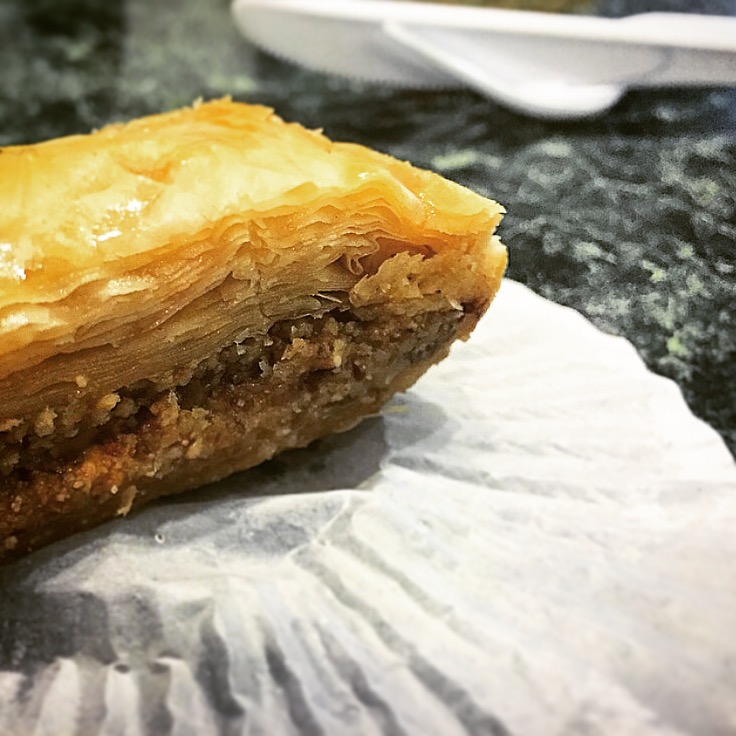 Cost: $0.99
We ended our lunch on a sweet note and ordered three pieces of baklava. At $0. 99 per piece, it was worth it.
According to one LTTR team member, the baklava was sweet but not as flavorful as he'd had in the past. Another LTTR team member thought that the baklava tasted great. Her only complaint was that she wished it came in bigger portions because the current ones were "too tiny."
As for me- sugar is sugar, and I love my decent share of it. However, I'd have to agree that while the baklava tasted fine, it was just that: fine. The dough was flaky, but it was a little on the greasy side.
In sum, Taza Grill is a restaurant that we'd definitely revisit in the near future. At $33.22 for three people, not only is Taza a fantastic deal, you get to enjoy incredibly fresh and flavorful food in a warm, inviting atmosphere. We just hope that next time, we won't be playing Hide-and-Seek with skewers in our gyros!