You can't always make it to a sit-down lunch; so this week, we decided to order lunch to-go. Looking for something quick, healthy, and not too far from the office, we called in an order at Jason's Deli.
Located at the corner of Spring Forest Road and Falls of Neuse Road, Jason's Deli is one of several health-conscious sandwich and salad chains in the Triangle area. This location is conveniently parked at one of the busiest lunch spots in the North Raleigh area in the Sutton Square shopping plaza.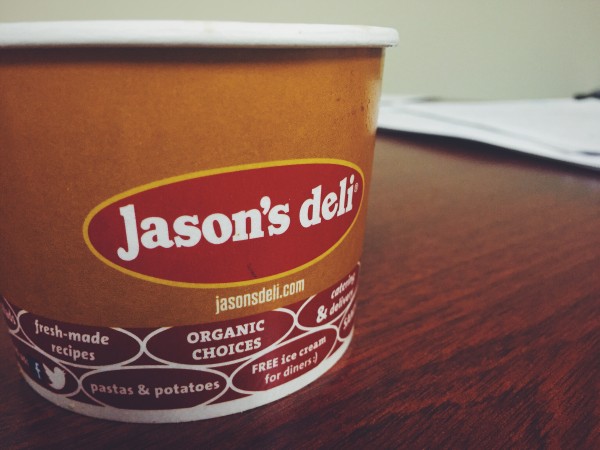 Ordering Food By Phone from Jason's Deli
Because one of our office staff members had previously ordered from Jason's Deli, placing an order on the phone was 100% seamless. As soon as she gave them her phone number, they immediately pulled up her information and were even able to suggest what she had ordered the last time.
We had some minor difficulty locating and then reading the menu online. The menu shows up as a PDF document online, and while it is color coded, it is extremely text heavy. This made it somewhat difficult to take in all of the items offered. Also, because the PDF document opened up in the same window as the website, it was a little frustrating to have to navigate backwards through screens to go back to the website (versus having the menu open in a separate tab automatically).
On the plus side, Jason's Deli certainly gives you plenty of options. Those with wheat allergies have a gluten-free menu option, while those who opt for a meatless diet can choose to look at a vegetarian-only menu. There is also a catering menu as well as the regular deli menu.
California Club + Fruit Cup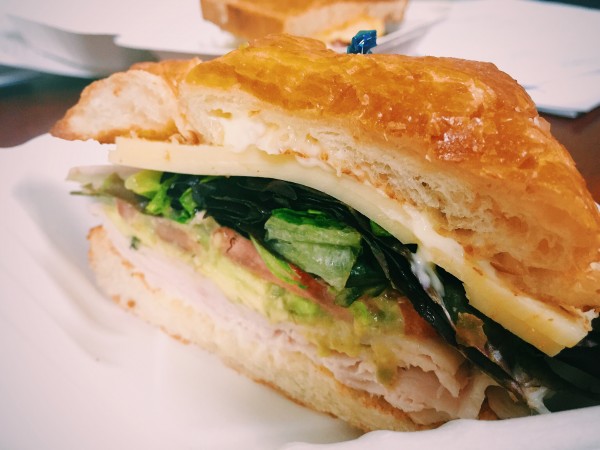 Cost: $7.49
The California Club consisted of roasted turkey breast with bacon, swiss cheese, guacamole, tomato, organic field greens, and mayonnaise on a toasted croissant. While delicious, be prepared to get a little messy. The toasted croissant definitely creates crumbs!
This sandwich comes with your choice of side. In this case, we opted for the fruit cup. However, Jason's Deli lets you choose from other sides: steamed veggies, baked chips, or organic blue corn chips with salsa.
Reuben Sandwich + French Onion Soup (Manager's Special)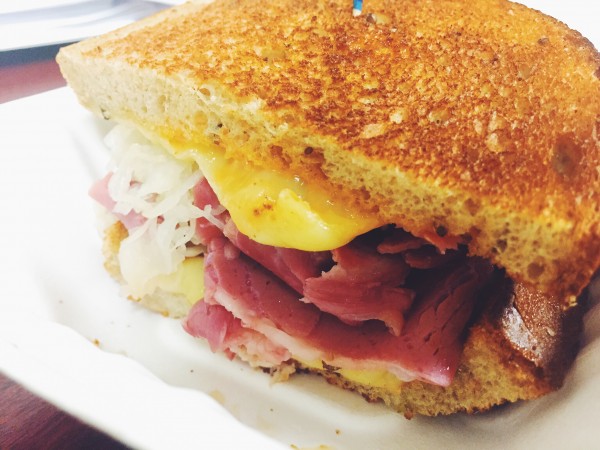 Cost: $8.49
While you can order the Reuben Sandwich as a regular menu item (under the "Famous Favorites" section), there is also a section called "Manager's Half-Sandwich Special." This section allows diners a choice of half-sandwich and their choice of either a cup of soup, or a cup of fruit.
In this case, we went for the 1/2 sandwich + soup option and settled on a Reuben sandwich with a cup of French Onion Soup.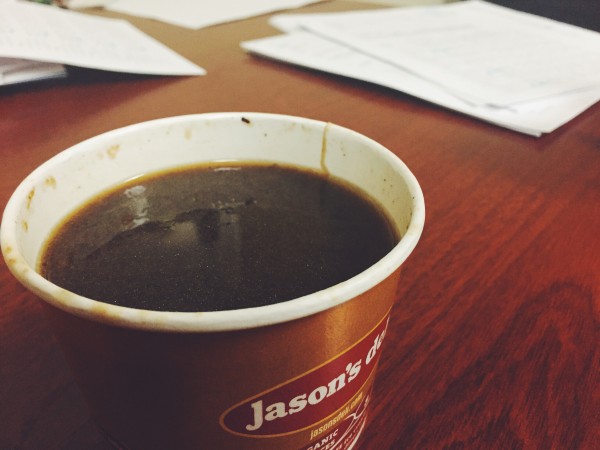 The Reuben Sandwich consisted of a generous portion of hot, corned beef, swiss cheese, sauerkraut, and Thousand Island dressing – all grilled into melted deliciousness inbetween two slices of rye bread. While the sandwich was delicious, the French Onion soup left more to be desired. Our staff member stated that while the soup tasted great, she was disappointed that Jason's Deli didn't include a slice of bread in the cup of soup, stating: "French Onion soup usually has bread in it, and the bread prevents the cheese from sinking to the bottom – which is exactly what happened."
French Onion Soup lovers – You've been warned!
Turkey Wrap + Steamed Veggies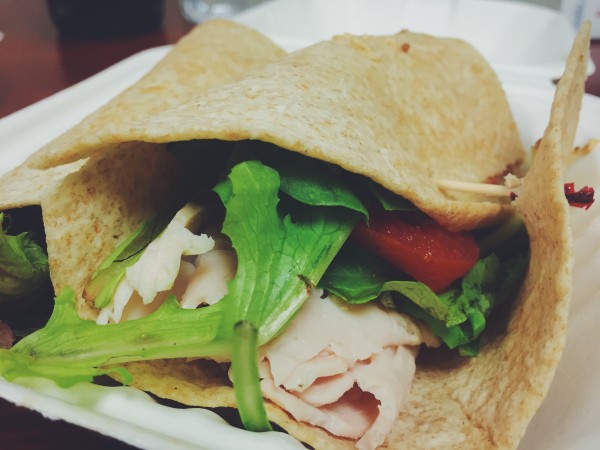 Cost: $6.59
For those with more of a bland palate and an eye on the calories, the Turkey Wrap is a fantastic option. You get all of the flavor of a delicious sandwich without sacrificing too much. At roughly 400 calories (it's listed on the menu), the sandwich consists of: a generous helping of roasted turkey breast, along with Roma tomatoes, organic field greens, guacamole, and ranch dressing inside of a toasted, organic wheat wrap.
Make this sandwich even healthier by ordering the ranch dressing on the side, which is exactly what we did. The sandwich comes with your choice of side item: fresh fruit, steamed veggies, baked chips, or organic blue corn chips with salsa. We decided to go healthy all the way and ordered the steamed veggies.
We were definitely glad to order the ranch dressing on the side. Not being a huge fan of ranch dressing to begin with, the dressing was extremely rich and creamy – so being able to dictate how much went on the sandwich was a huge plus. The steamed veggies were perfectly steamed and still retained a little bit of crunch without being overcooked. We also liked the fact that they were truly "steamed veggies" and that there wasn't any added salt or seasonings.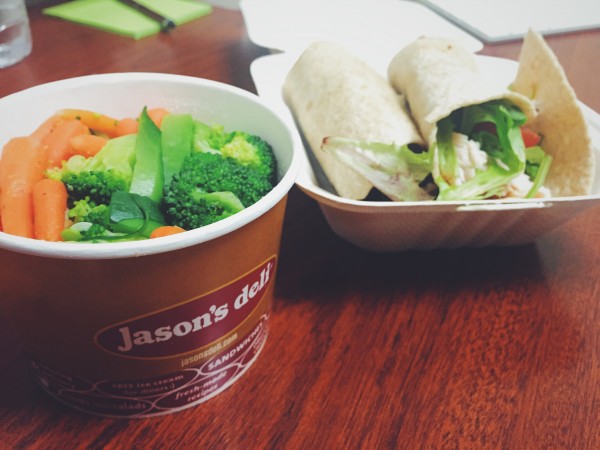 We should also note that we did not order any drinks with our meals since we already had beverages back at the office. However, drinks did NOT come with any of these meals.
Despite dining at our desks versus at the restaurant, we were not disappointed in the least. The food was great. The ingredients tasted and looked fresh, the presentation was simple yet neat, and the flavor was fantastic. The ordering process, despite some minor issues finding and reading the menu, was seamless from start to finish, and the proximity of the Jason's Deli to our office made the whole order time fast and convenient.
Some of us have already dined here; and for a mere $24.32 for three adults, we'll definitely be dining here again in the near future. Keep up the great work, JD!