Those who consider themselves "pizza snobs" may find very little to complain about after visiting Dominic's NY Pizza. Not only is the food delicious, the service is prompt, the staff is friendly, and the menu options are plentiful and varied.
Located in the Poyner Place Shopping Center (near the Triangle Town Center Mall), Dominic's NY Pizza is conveniently located near shopping and I-540.
About Dominic's NY Pizza
Owner of Dominic's NY Pizzeria, Marco Zelliche, honed his culinary skills while living in Naples, Italy. In 1995, Zelliche emigrated from Naples to Brooklyn, NY where he quickly earned the reputation of "the pizza man". Not long after that, Zelliche took his delicious Italian recipes and restaurant experience down to North Carolina.
The North Raleigh Dominic's NY Pizza shop has been around since December 2005 when owner, Marco Zelliche decided to expand and open his second location. Zelliche had previously opened his first location in Cary, NC.
Today, Zelliche runs the North Raleigh pizza location and lives nearby with his wife and daughter. Zelliche's personality and zeal for authentic, high quality Italian cuisine is evident – both in the food as well as his interactions with customers.

Atmosphere
When you walk into Dominic's, you're immediately greeted by the savory smell of Italian cooking: notes of garlic, parmesan, dough being baked, and tomatoes. The atmosphere is open and airy, and there are nods to Italy as well as New York City as seen in the murals, photographs, and other artwork and decor.
The front of the restaurant features floor to ceiling windows that overlook a pond and an additional outdoor seating area. We went here during lunch, and while it was busy, we were able to find a table without any issues, and we were able to have a conversation without yelling to be heard. Overall, it's a very relaxing and inviting atmosphere, great for lunch dates, casual corporate get togethers, or family gatherings.
Garlic Knots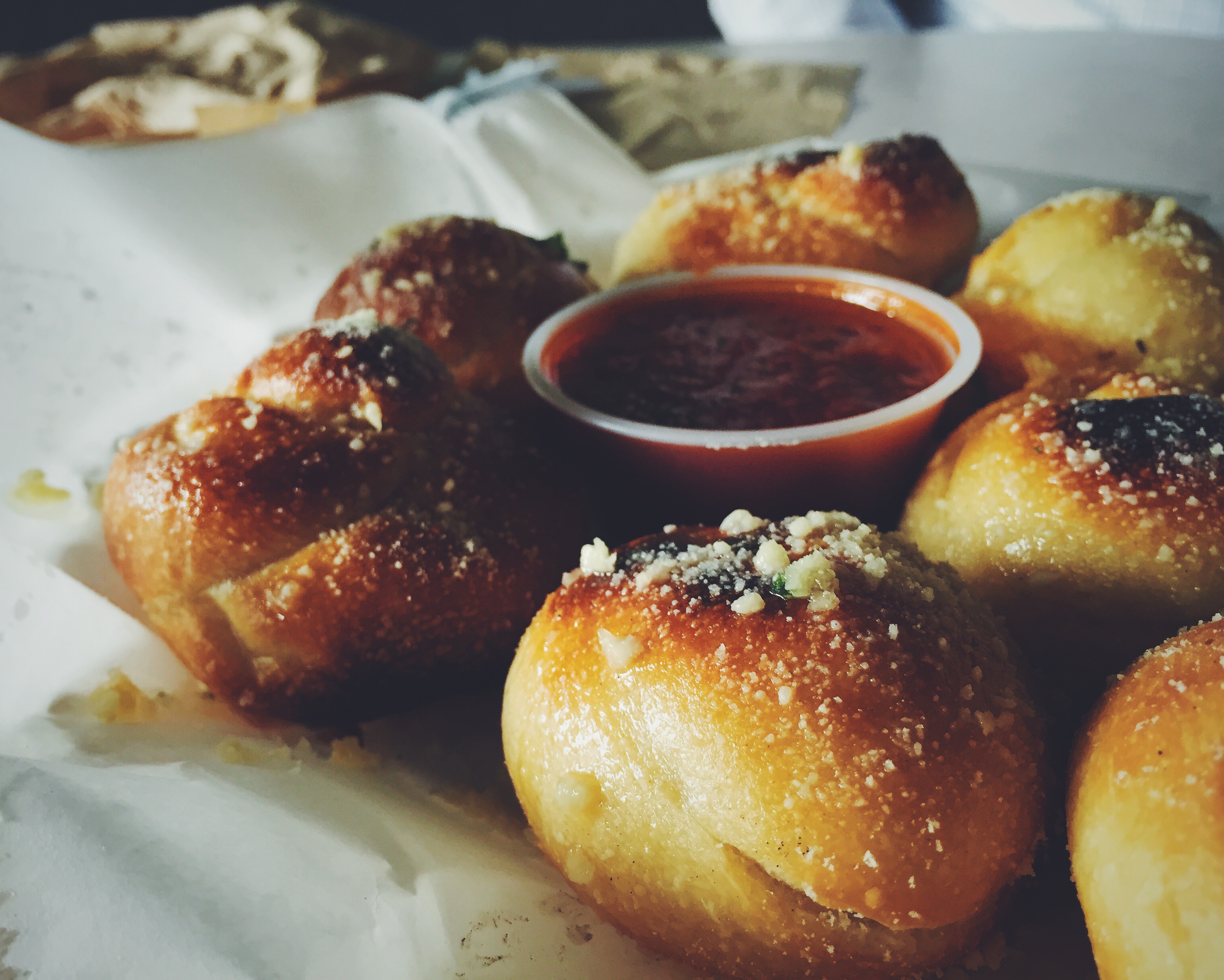 Cost: ~$4.00
Dominic's NY Pizza features a great lunch special. For $6.99, you get your choice of two slices of pizza and a fountain drink. Before we decided on our pizza slices, we placed a small order for garlic knots. A small order turned out to be more than enough for three people with eight garlic knots in one order.
The garlic knots were as great tasting as they looked. The flavor was incredible: a perfect blend of garlic infused bread with lightly brushed garlic butter and parmesan cheese dusted on top. In the past (in North Carolina), whenever you order garlic knots, you often get "garlic knots" that consist of baked balls of dough that are sprinkled with garlic salt and garlic powder. This was most definitely NOT the case with Dominic's.
As a self professed pizza snob, these garlic knots were freshly made. There was a light crust and a mildly doughy center. The knots were served hot, and the blend of flavor between the garlic bread, parmesan cheese, and garlic butter was out of this world.
Pizza #1 – White Pizza Slices + Fountain Drink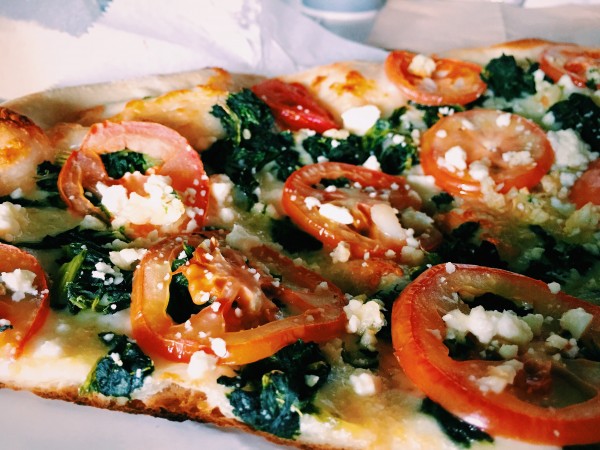 Cost: $6.99 + Tax
This pizza consisted of tomato, spinach, feta cheese, and garlic. All of the ingredients tasted fresh, and the flavors blended together for a delicious taste. The pizza was hot, and the crust was crisp. While it tasted great, it would've been perfect if the crust was basted in butter or if they made this with some sort of a stuffed crust option.
Pizza#2 – Pepperoni Pizza Slices + Fountain Drink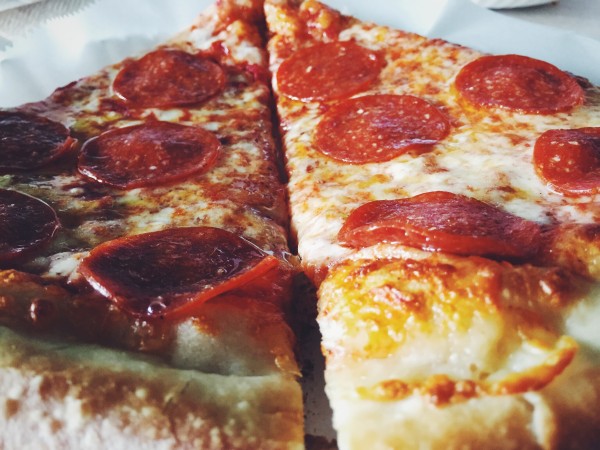 Cost: $6.99 + Tax
Hailing from Long Island, NY and having lived in North Carolina for more than 10 years now, I've often joked with friends that there are no decent pizza places in the Raleigh, NC area. That joke may have finally run it's course after paying a visit to Dominic's NY Pizza. The flavor of the pepperoni pizza was a blend of pepperoni and melted cheese, baked onto a thinly set, crisp crust.
Two of us ordered the pepperoni pizza slices, and we really tried to savor as much of the flavor as possible. It was THAT good. The pizza was served hot, and the crust was perfectly baked – not soggy, but not dried out either. The amount of cheese was just right. However, if you are a true lover of cheese, you can certainly request your pizza slices with "extra cheese" on top.
While we didn't get into the desserts, Dominic's offers up a wide assortment of dessert options- the most enticing of which was the Nutella cheesecake. Outside of this, their menu is impressive; there is truly something for everyone – from cold/hot Italian subs to traditional pizza slices, pies, and more. Definitely stop by. Dominic's is, by far, one of the best kept Italian secrets in the Triangle.