Our latest dining experience took us to Salt & Lime Cabo Grill, located at 6006 Falls of Neuse Road, Raleigh, NC 27609. The restaurant is tucked away in the corner of an otherwise nondescript shopping plaza. However, when you walk through the door, it's another story.
Atmosphere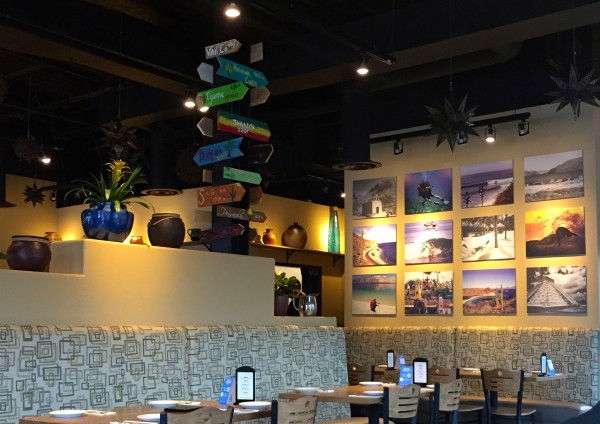 The interior of Salt & Lime Cabo Grill takes its inspiration from the coastal California scene. It is open and airy, with a full bar to your left, a lofty, exposed ceiling, and generous seating elsewhere,  including a modest patio off of the back.
The atmosphere is clean and laid back. Beach-themed canvases neatly line one wall, while vases, fresh plants, pottery, and simple artwork are tastefully placed throughout.  The ceilings are tall and feature lights that most likely give the restaurant a dreamy, romantic feel at night (Just imagine yourself dining beachside at night).
Baja Cabo Rolls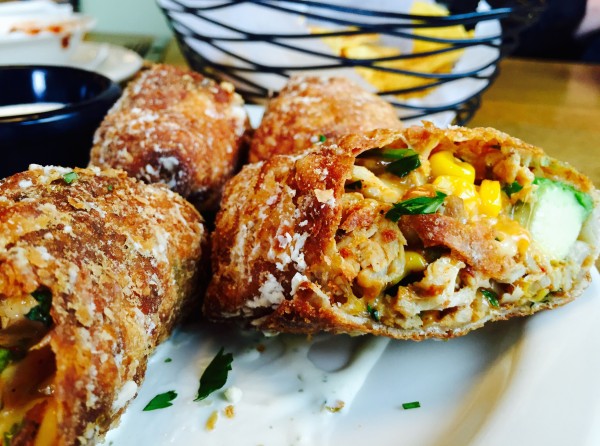 Cost: $8.95
The Baja Cabo Rolls consisted of four lightly fried wontons, filled with barbecued chicken, roasted corn, poblano peppers, jack cheese, black beans, cilantro, avocado, and spicy ranch. The thing that made this appetizer especially delightful was the fact that, despite it being a "fried" appetizer, it lacked the fried taste/feel.
The Baja Rolls were great! I liked that they weren't greasy. They were golden brown, well seasoned, and the ingredients tasted really fresh.

This is one appetizer that was really well thought out. It was definitely a sum of its parts. It tasted really good with the spicy ranch sauce. However, if it had been served separate (without the sauce), it would not have been as great.

I don't like fried food, but this was surprisingly good – mostly because it wasn't dripping in oil, and it didn't have that gross, fried taste. However, the rolls sans sauce were really bland and lacked flavor. It was the spicy ranch that really brought this dish together and made it fabulous.
Fire-Roasted Chile Relleno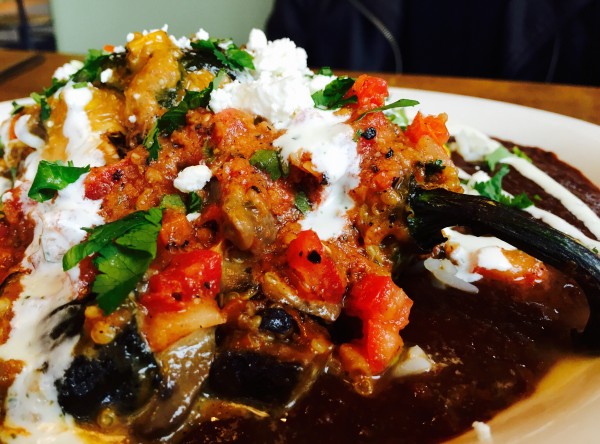 Cost: $10.95
The Chile Relleno conisted of: roasted poblano pepper, cheese, roasted veggies,  quinoa, roasted salsa, lime cream sauce, black bean adobo purée, queso fresco, and cilantro rice. Of the meal, our diner stated:
The Chile Relleno had a very good flavor and fresh ingredients. It was a vegetarian meal, but it was not lacking in substance. The smoky + fresh combination was awesome. The beans around the outside were almost velvety, and the overall presentation was very deliberate and well thought out.
Chile Braised Pork + Lemonade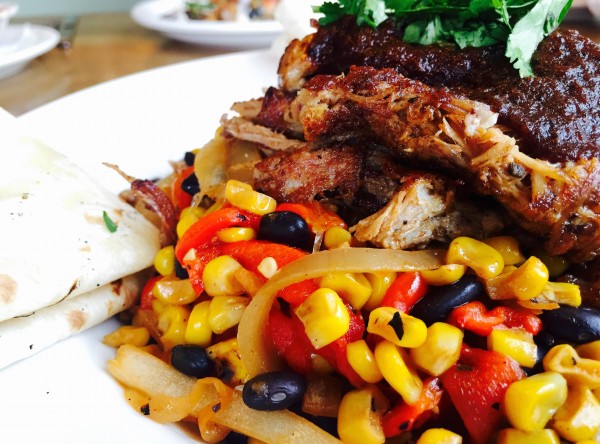 Cost: $12.95 + $3.00
The Chile Braised Pork consisted of: braised pork shoulder, sautéed peppers, onions & tomatoes, adobo sauce, black bean & roasted corn succotash, cilantro rice, and neatly folded, warm tortillas on the side.
This dish was absolutely delicious. The combination of ingredients made it incredibly flavorful. If you order this, definitely bring your appetite, and/or a friend! The portion size was generous, and it was nearly impossible for me to finish. I loved how all of the ingredients had that fresh-made taste. The veggies were perfectly cooked with bits of corn and tomato bursting against the adobo sauce and cilantro. I'd definitely order this again.
Island Shrimp Tacos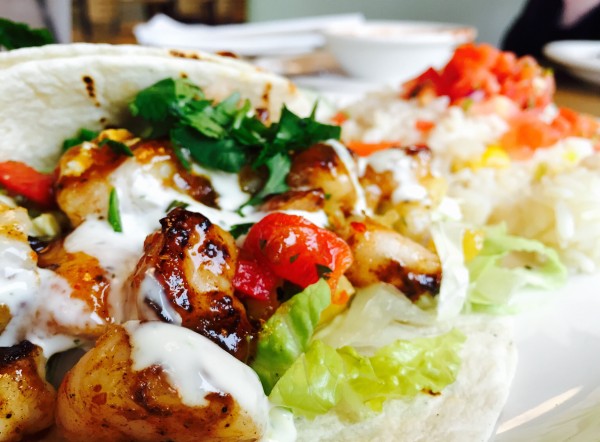 Cost: $12.95
The Island Shrimp Tacos consisted of: two tortillas, jerk-spiced shrimp, napa-romaine slaw, jamaican sauce, caribbean salsa, lime cream sauce, and cilantro rice.
Simply put, Salt & Lime Cabo has great food. I feel like the menu was created by a real chef. The ingredients were all high quality. We enjoyed eating in a nice, clean atmosphere. From the moment we walked in the door, the service was great and seamless. The shrimp tacos were AMAZING. The pairing of sauce on the tacos + the pineapple in the taco was amazing.
Molten Chocolate Cake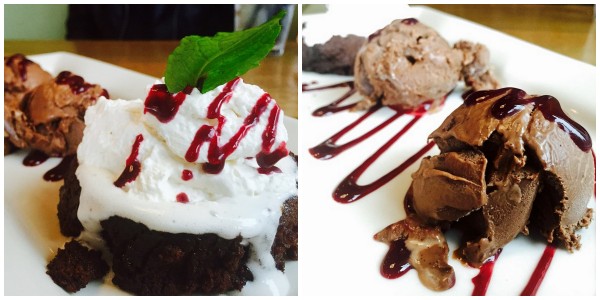 Cost: $6.95
The Molten Chocolate Cake consisted of: blackberry sauce, and aztec chocolate ice cream.
I loved it. This dessert is definitely not for the faint of heart. It has a very different flavor because of the spices in the ice cream, but if someone was feeling the need to branch out, it's a great choice.

Aztec chocolate is known to be slightly spicy and rich. This, combined with the warm chocolate cake, raspberry sauce, and whipped cream resulted in a flavor that I can only explain as indescribably delicious. It's one of those desserts that you try to eat as slowly as possible because you try to savor every single bite. It was THAT good.
Overall, Salt & Lime Cabo Grill was a huge hit. This is a great lunch spot for business associates, friends, lovers, or families with slightly older children. We'd love to go back and see what the atmosphere is like in the evening. The food, service, and decor were all on point. We'd highly recommend this as one of the best, well-kept secrets in Raleigh, NC. The food was absolutely incredible. If you're looking for flavor, you'll find it here in more ways than one.
Total (for 3 adults): $60.07*
*does not include tip