Located at 8450 Honeycutt Rd #110, Raleigh, NC 27615, Vinos Finos Kitchen and Wine Bar is nestled in Lafayette Village in North Raleigh. The popular wine bar features a lovely selection of tapas and an equally impressive South American wine list.
Atmosphere
We had planned to arrive for dinner at 6 p.m. However, the parking situation was a little nightmare-ish. It was also a reminder to plan ahead when dining out at Lafayette Village. There is limited parking at this location, and the combination of snow and ice-filled parking spaces and walkways didn't help matters. By the time all of us were seated inside of Vinos Finos, it was closer to 6:30 p.m.
When you walk into Vinos Finos, the atmosphere is other-worldly. There is a warm, earthy feel complete with low lights, candles, and an impressive floor-to-ceiling display of bottled wine on open shelves. We arrived ahead of the dinner rush, and there were couples scattered around the restaurant. Some sat at the bar, while others were tucked away in the lounge area on couches. We liked the ambience and the variety of seating available.
There were booths, pub-style tables (suitable for 2-3 adults), seating at the bar, and a few couches in a nook. All of the seating was arranged tastefully and gave you enough space that you didn't feel as though you were sitting on top of other people. Our party of four sat at a booth, and while it was comfortable, we found ourselves looking around for a place to hang our jackets.
The music was kept at a reasonable volume so that you didn't have to yell to be heard. As the night wore on, the volume was raised slightly as more people began to arrive.
Casa Silva Carmenere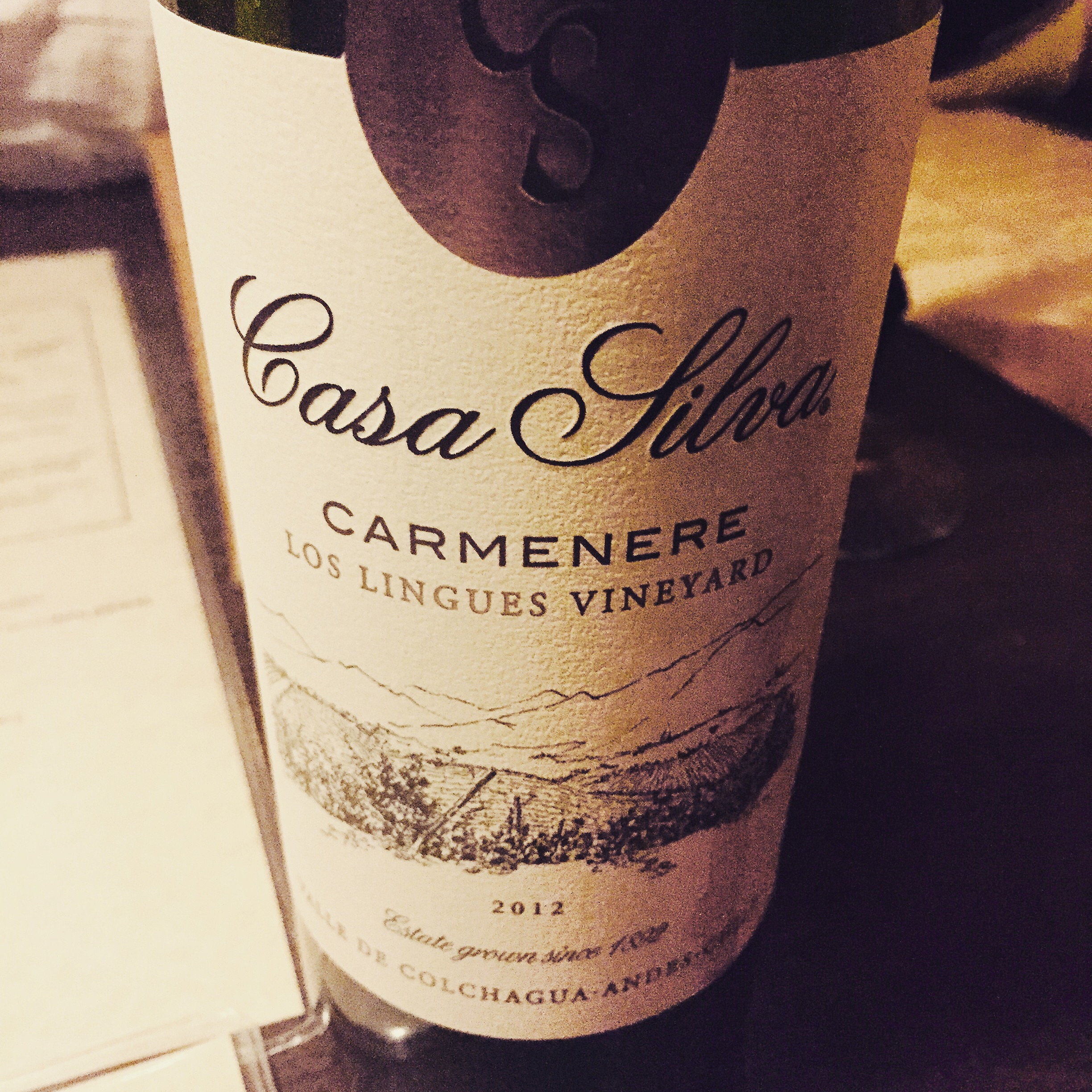 Cost: $36.00 (bottle)
For our first wine choice, we all agreed on a red wine. One of our LTTR team members had invited his girlfriend, who is from Chile. She has a penchant for great tasting wine, and thus, we looked to her for our first pick: the Casa Silva. It was delicious.
The wine had a vibrant, bright violet color, and there were hints of blackberries, dark chocolate, and licorice. It wasn't as dry as a Cabernet Sauvignon, but it wasn't overly sweet either. It had a nice, smooth finish with a touch of spiciness. Overall, we all agreed that it tasted great.
Bodega Gratia Malbec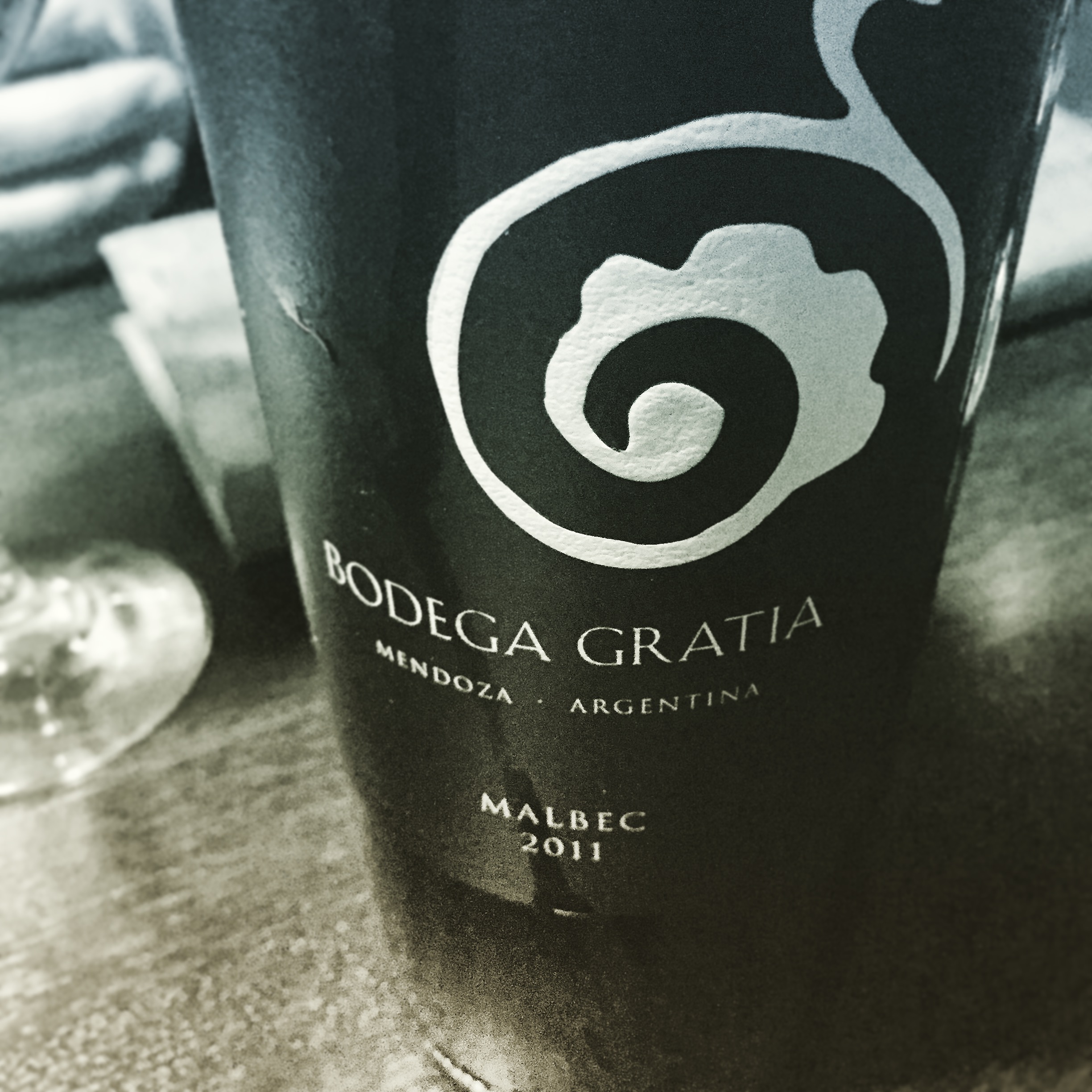 Cost: $36.00 (bottle)
For our second wine selection, we wanted to go with another Chilean red wine. However, we opted, instead for an Argentinian variety: the Bodega Gratia Malbec (2011).
Similar to the Casa Silva, this wine wasn't too dry or too sweet; it was medium-bodied and had an intense, red color with deep purple tones throughout. The flavor was a combination of ripened blueberries, dark cherry, and dark chocolate with  hints of strawberry and vanilla.
Both wines paired nicely with our appetizers as well as our meals. As one LTTR team member recapitulated:
I would say their wine descriptions are spot on. That's huge for me. I feel like I can trust their menu when making decisions on wine, which was one of my favorite things about this place. That, alone, would get me back: knowing I can try new things and they will match the description of ingredients.
3 Empanadas (2 Beef & 1 Duck)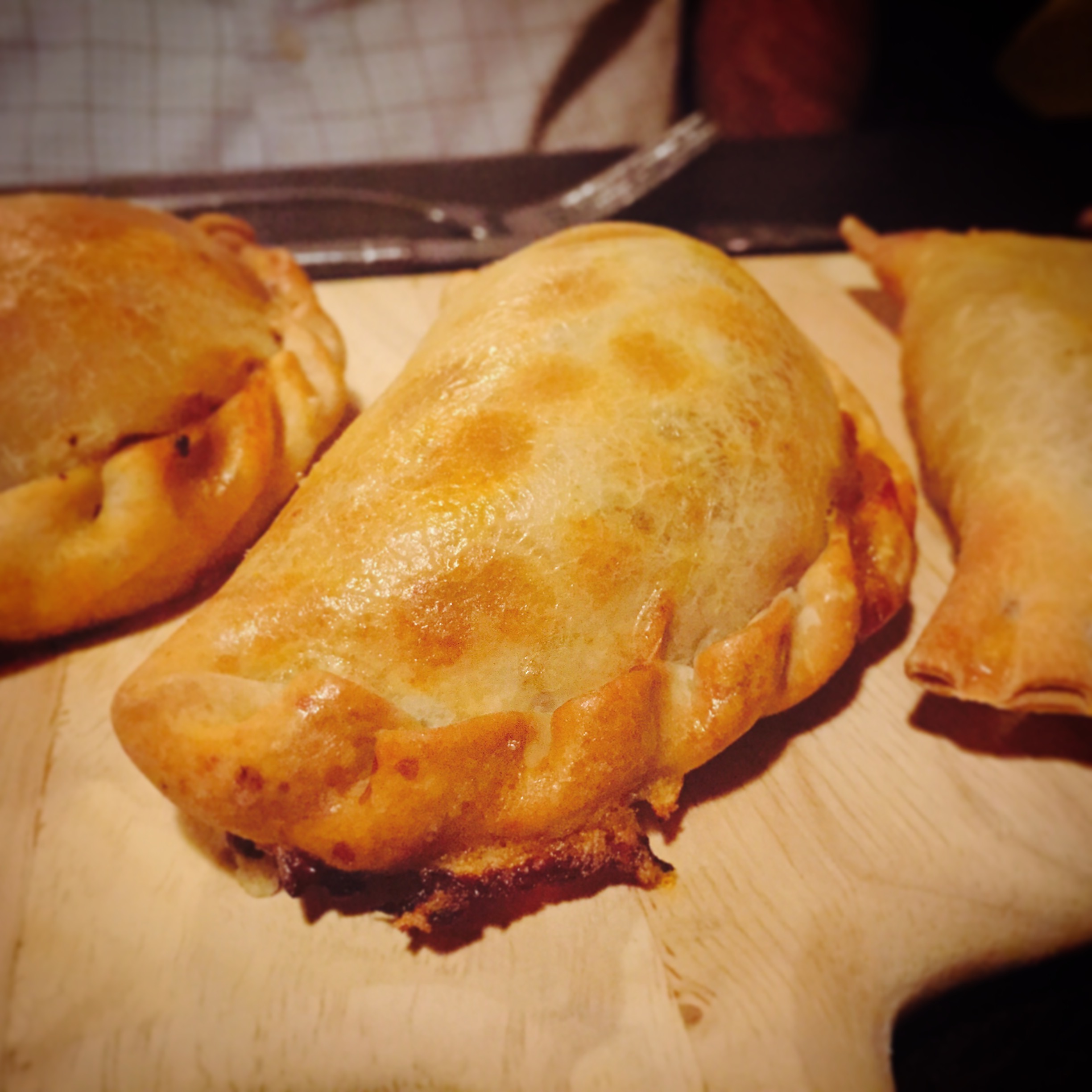 Cost: $8.00 (beef), $4.00 (duck)
The empanadas were nicely presented. We ordered two empanadas, which consisted of beef, corn, & cheese. We also ordered a single, duck empanada, which consisted of duck confit and sweet potato. While all of the empanadas were absolutely delicious, they were served to us cold. As one LTTR team member stated:
The appetizer was cold; it was good – but it would have been much better (and a much better experience) had it been served hot. I wonder whether they even put the effort into serving it hot/warm.
Cheese Plate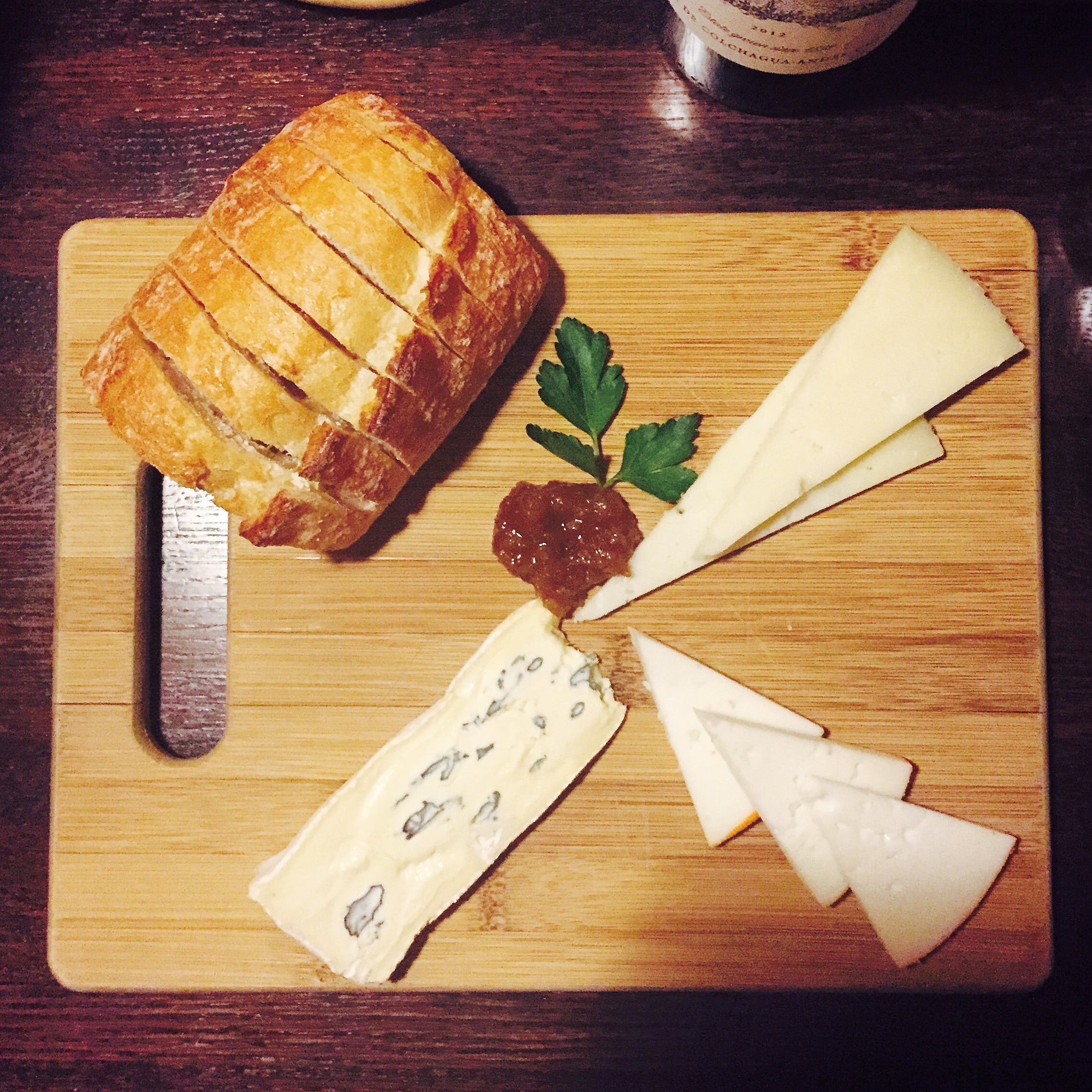 Cost: $13.00
We also ordered a cheese board to share among us. The board featured a mixture of three different types of cheese, a small serving of apricot spread, and a partially sliced, warm baguette.
Again, the presentation was wonderful, and we enjoyed sampling the different cheeses. Overall, everything on the board tasted great, and the goat cheese was a staff favorite of ours. The only thing we would've changed about this presentation was the quantity of jam as there wasn't quite enough to share among four adults.
Tuna Nachos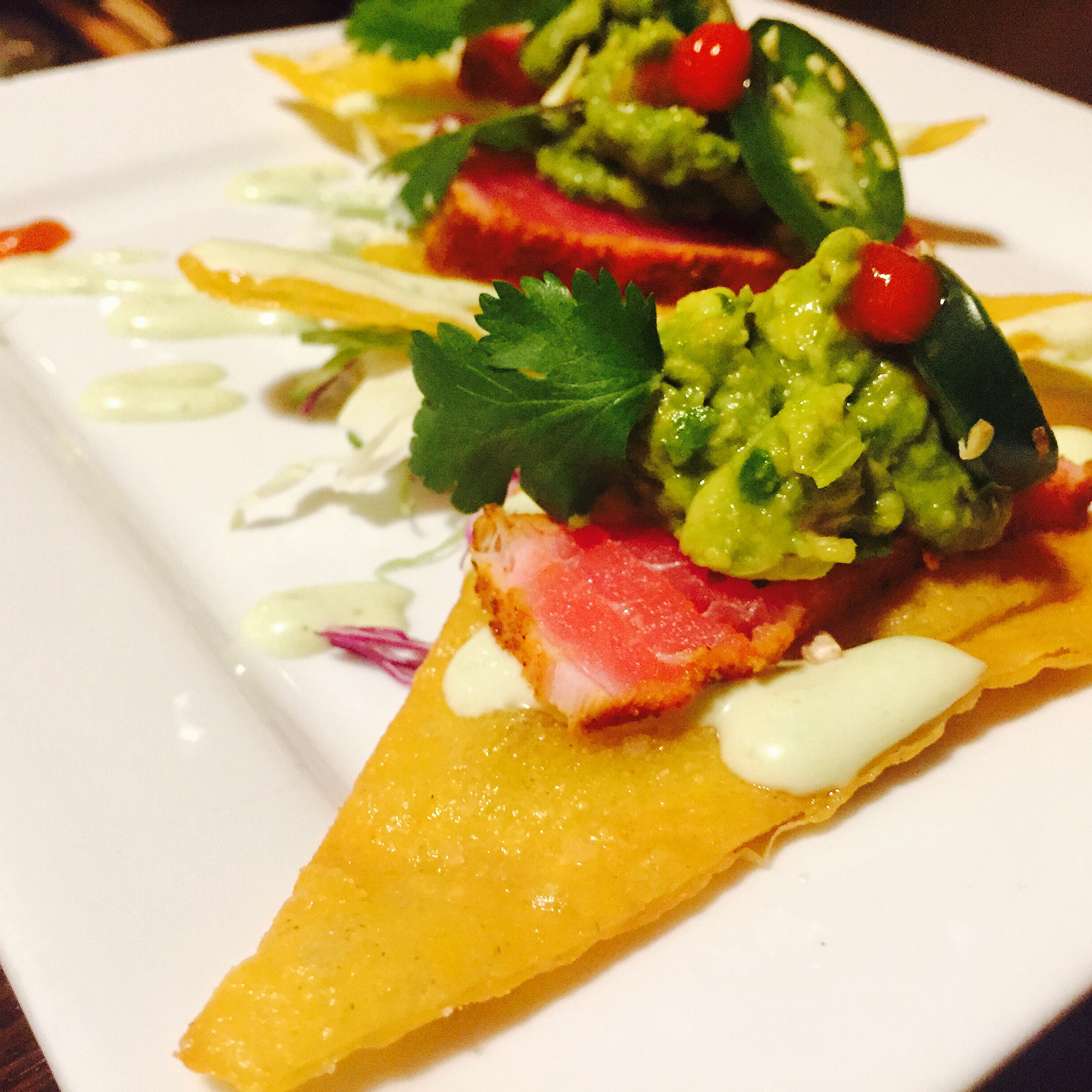 Cost: $9.00
Despite the Tuna Nachos being listed as an appetizer, one of our staffers decided to order it as her main meal. Her thoughts:
The Tuna Nachos were GREAT. It was a very different cultural fusion dish. The tuna was perfectly seared on outside, rare on the inside, and all the elements of the dish came together really well. I appreciated the freshly fried nacho, and it was well salted. The cilantro was also very well balanced with the avocado creme- really a great harmony of flavors.
Skirt Steak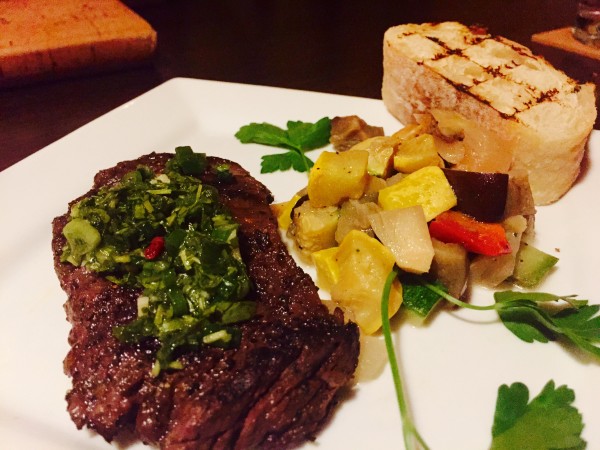 Cost: $16.00
The skirt steak was delicious and perfectly cooked to order. It was served hot and grilled, complete with house chimichurri, roasted vegetables, and a slice of chargrilled bread. Our staffer ordered her steak medium-rare and commented about how the meat was extremely flavorful and also that the portion was just right.
Filet Mignon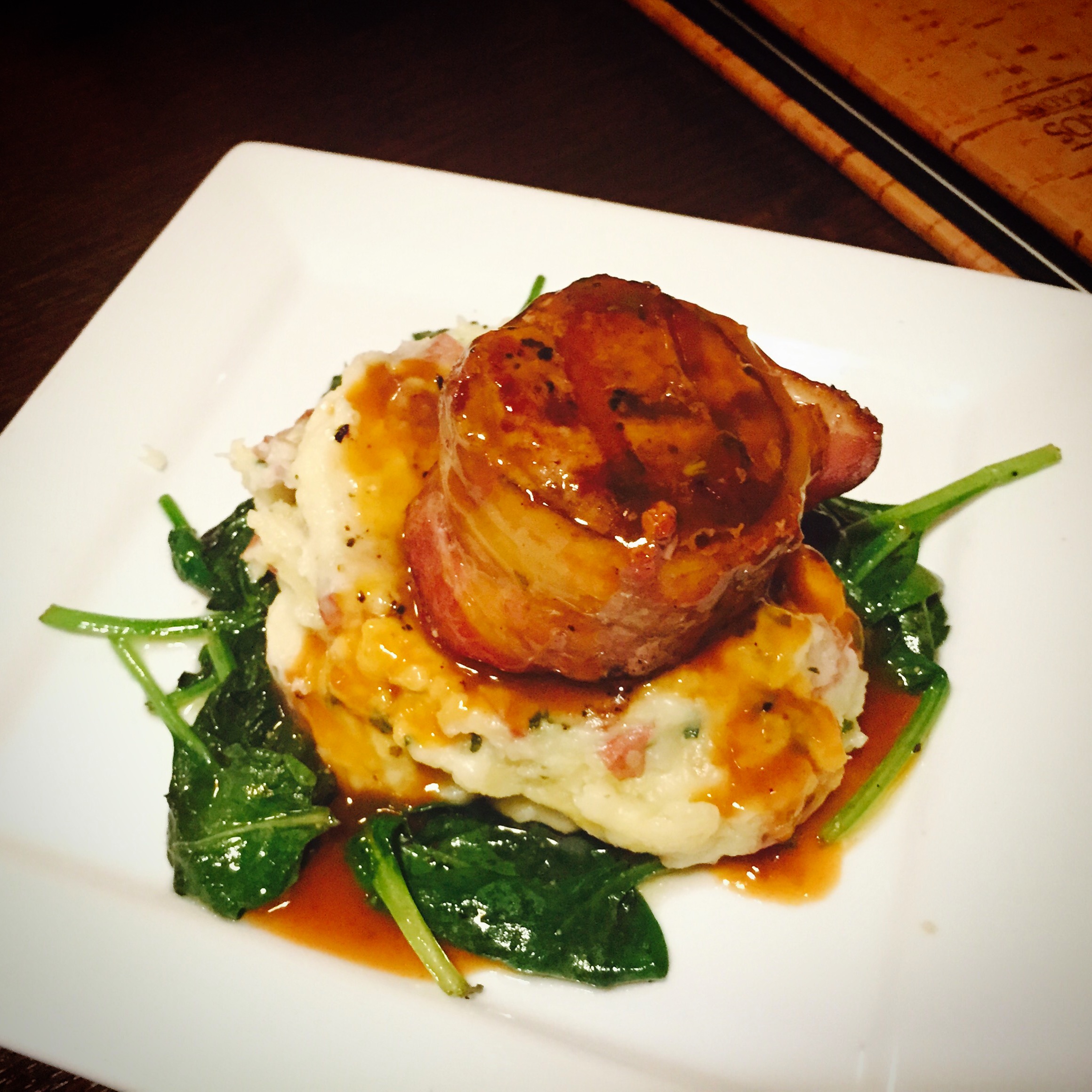 Cost: $20.00
The Filet Mignon was one of Vinos Finos' dinner specials, and it did not disappoint. From the presentation of the meal to the actual flavor, every aspect was on point. As our staffer explained,
The Filet Mignon was great. It was cooked just how I wanted. It was served hot, and all of the ingredients tasted high quality; I loved it.
Salmon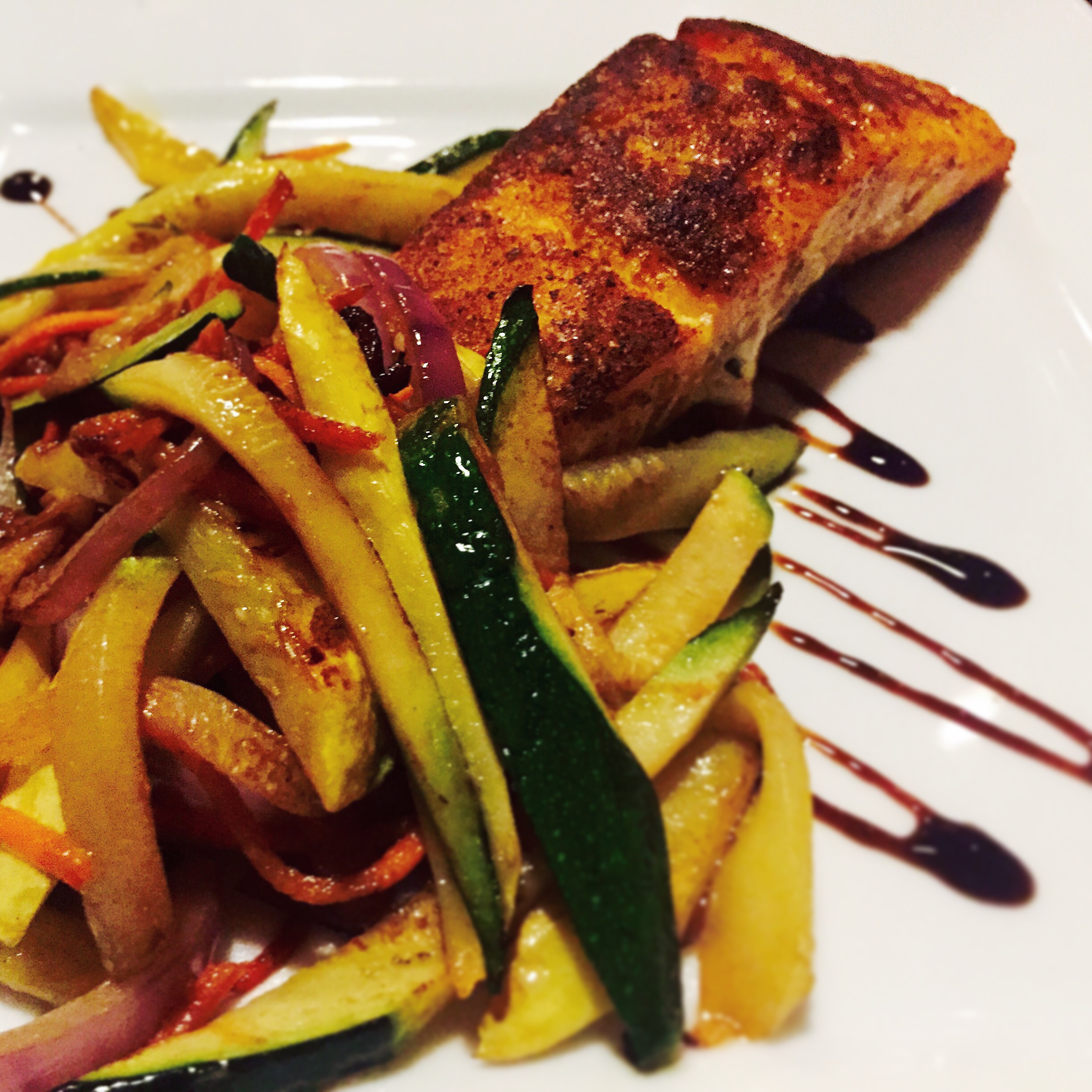 Cost: $14.00
Another house special, the grilled salmon was cooked to perfection. The portion and presentation were both wonderful. Our staffer explains:
I absolutely loved the way this meal was presented. You could tell that they put a lot of thought into not only the quality of the food; they also put a lot of effort into how you felt upon seeing it. From the julienned veggies to how perfectly well-done I ordered my salmon, not a single detail was missed here.
Apple Strudel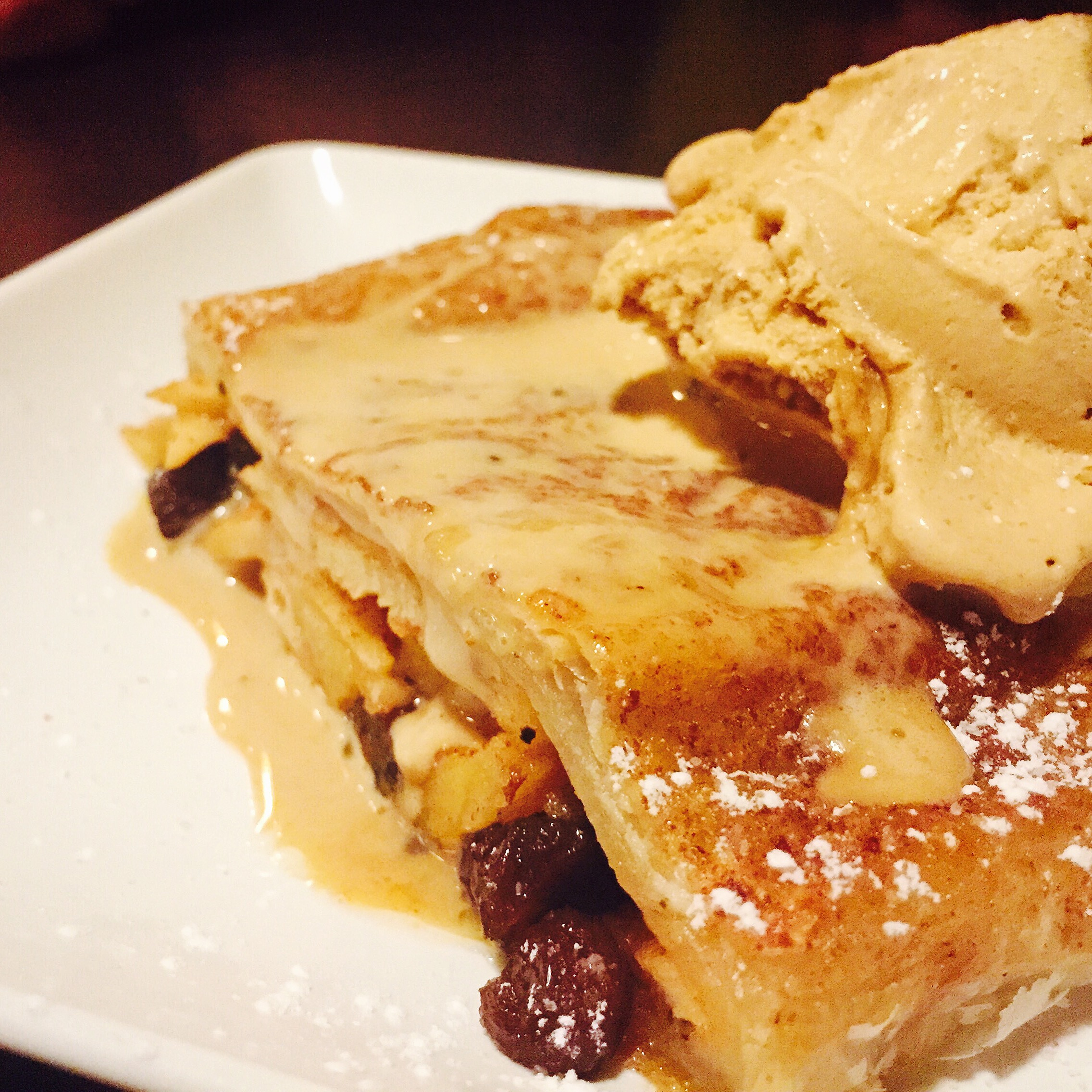 Cost: 7.50
For dessert, two of us ordered the Apple Strudel to share. The strudel was made fresh to order, and it was delightfully presented. However, there was a slight issue with salt in this otherwise sweet treat. They commented:
Dessert was okay, it was very salty! This was not something we were used to (or expecting). It made it almost unpleasant at times finding super salty bites, and we actually did not finish the strudel due to that fact. It would have been great without the salt!
Chocolate Surprise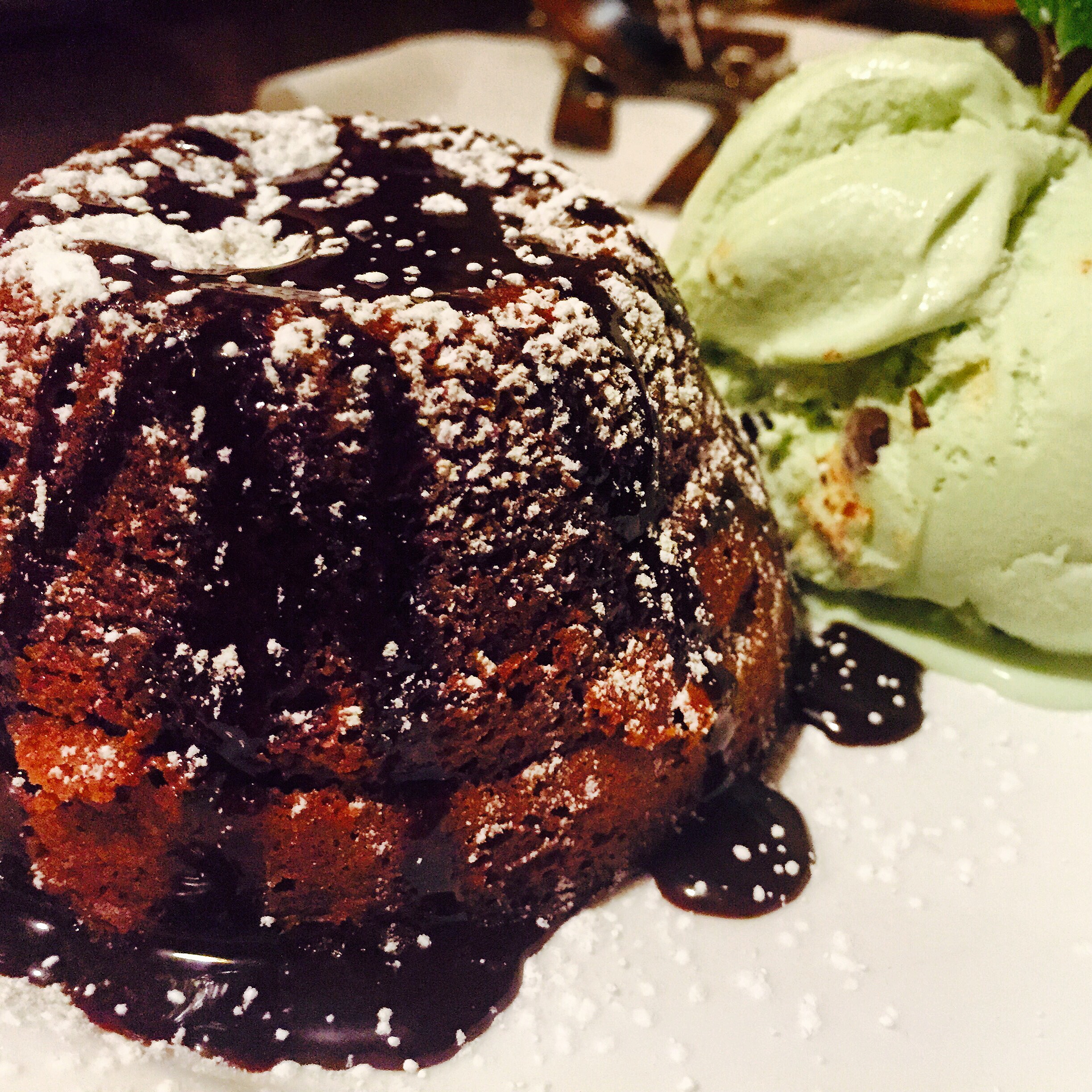 Cost: $6.50
The second, shared dessert was the Chocolate Surprise. Like the Apple Strudel, this was baked fresh, on site (which meant having to wait roughly 15 – 20 minutes). However, it was worth the wait!
The "surprise" is that this dessert is basically a mini, chocolate lava cake…except a million times better. It was served hot/warm and was adorned with a tasteful amount of powdered sugar and melted chocolate sauce. There was also a generous dollop of mint ice cream on the side. As our staffers put it:
The mint flavor was not too strong in the ice cream. The ice cream was also a great texture – not too firm, and it really let the chocolate shine! The cake was not too sweet, and it was crisp on the outside with a soft, moist center, which was also very nice. We loved it!
Overall, our experience at Vinos Finos was wonderful. The wait staff was nothing short of professional, friendly, and attentive. Wine was uncorked, water glasses were refilled before even having to ask, dishes were cleared promptly, and the ambience in the restaurant invited us to sit and relax without feeling the need to rush through dinner.
We would certainly recommend this restaurant as a great place for single diners, small groups, and first dates. For a total of $181.02 (+ Tip) for four adults, it's well within the price range of any corporate gathering or working professionals. Do be sure to plan ahead – both for finding a parking spot as well as for spending a little extra cash. However, when it comes to spending a little extra cash, we find that you get a lot more for your money at Vinos Finos. ¡Tienen una buena comida!
Visit Vinos Finos on Facebook, or you can also follow them on Twitter.