If you blink, you may miss this little restaurant. Tucked away in the corner of a parking lot, hidden in a blend of other strip mall stores, MachuPicchu Peruvian Cuisine is a breath of fresh air in an area otherwise devoid of ethnic food varieties.
The restaurant is located in North Raleigh and is open to the public Tuesdays through Sundays at various hours:
4500 Falls of Neuse Road #100
Raleigh, NC 27609
The interior of the restaurant feels more like a cafe. There are few embellishments, but there is definitely an "other worldly" feel in the choice of decor, paintings and music.

Drinks – Pisco Sour
The meal started off with a Pisco Sour, a cocktail typical of South American cuisine, and which both Chile and Peru claim as their own. The drink's name comes from pisco, which is a type of liquor made from fermented grapes, and the cocktail term sour, in reference to sour citrus juice and sweetener components.
If you're a lightweight, you may want to take it easy when drinking a Pisco Sour. Looks are deceiving! I found this drink to be a little strong, and though it was delicious, I probably should've had more to eat before drinking it. The flavor could best be described exactly as the name describes it – a little sweet and a little sour; it reminded me of a sour apple Jolly Rancher, to be honest. This alcoholic drink is small, but it packs a punch – both in flavor and in price at $10.00.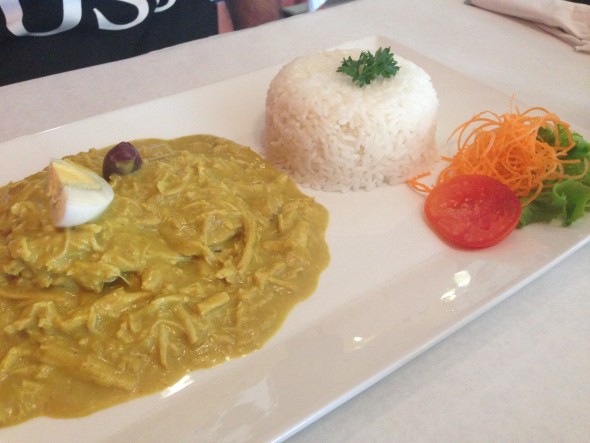 Aji De Gallina (Entree)
Next came the entrees. The Aji de Gallina consisted of shredded chicken cooked in a creamy yellow sauce made with aji Amarillo, spices, walnuts, cheese and cream, served with rice and over boiled potatoes, boiled egg and Peruvian black olives.
The flavor had a hint of warmth and sweetness without being overbearing. You could taste the spices, which blended excellently with rice and potatoes. It was very flavorful and delicious. This meal was fairly reasonable at $10.95.
Lomo Saltado (Entree)
The Lomo Saltado consisted of flambéed Beef filet mignon tenders (Black Angus Tenderloin) with onions, tomatoes, red bell peppers and cilantro, served with white rice and fries. Like the menu described, the meat was incredibly tender. The flavor could best be described as having slightly sour undertones, and the cilantro seasonings on top blended in nicely. While the french fries tasted completely fine, I might have served this dish with a different side – especially at the pricey cost of $20.95.