Red Bowl is a great spot if you're looking for enough space to host a group of friends for dinner, or if you are thinking of throwing a large party. It's also convenient and flexible enough for the business lunch or a casual dining experience with friends.
The location of this particular Red Bowl was:
6360 Plantation Center Drive, Raleigh, NC 27616
Atmosphere
Overall, the atmosphere was meh. The restaurant, with its tall ceilings and lack of walls, should've felt open and airy. However, it felt stuffy and sticky, and we wondered whether the air conditioning/ventilation system was working properly. The other diners didn't seem to mind, however. There was an overall feeling of 'ickyness' to the place, that translated to the silverware and serving plates on which the food was served. It was as though you suspected things weren't washed as thoroughly as they could've been – though you didn't dare to look close enough to prove yourself right.
Sesame Chicken – $6.95
The sesame chicken dish came with an egg roll of your choice and brown rice. There were no frills with this dish; it was very basic. The flavor was decent for what you were paying for.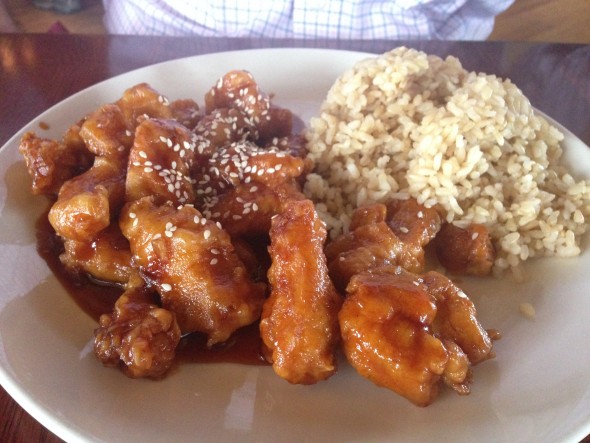 Bento Box- $11.95
The bento box consisted of red curry chicken, two fried potstickers, and brown rice. Overall, it was disappointing. While the food was hot, the potsticker tasted over-fried and rubbery. The curry chicken was way too soupy and didn't really have any vegetables mixed into it, and the bento box itself seemed like it had seen better days.