Located just outside of the Sutton Square Shopping Plaza, near Falls of Neuse Road, Saints & Scholars Irish Pub can be found at 909 Spring Forest Road, Raleigh, NC 27615. This Irish-style restaurant and pub mainly caters to the late-day/evening crowd, but it also serves as a great lunch spot!
Atmosphere

This restaurant boasts plenty of easy parking, a sizable outdoor patio, and a fairly spacious interior – perfect for large groups, bar crowds, and the occasional musical act. Despite the dark decor, the lighting actually isn't too bad (for a pub-style restaurant). The bathrooms are definitely reflective of a bar crowd, and while the atmosphere looked clean, the air inside was a little damp and musty and had the slight smell of beer, which made it feel a little sticky.
On the upside, the wait staff was super friendly, attentive, and efficient at anticipating our needs. Little touches, such as making sure we had extra napkins and automatically refilling our water glasses without us having to ask make a huge difference!
Irish Nachos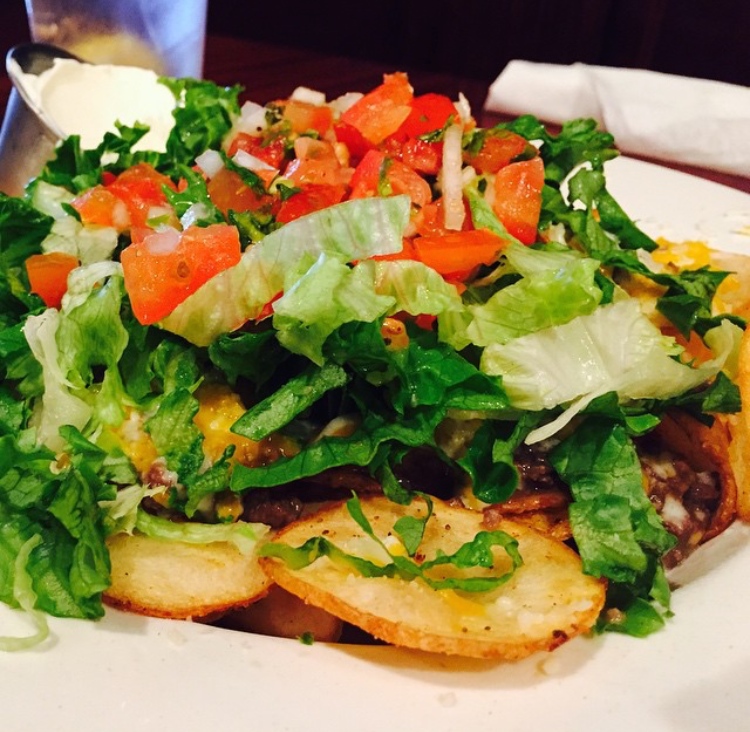 Cost: $10.99
Saints & Scholars takes a twist on the traditional Shepherd's pie with their "Irish Nachos". The nachos are actually listed as an appetizer; however, they definitely hold their own as an entrée. This generous dish consists of: pub crisps topped with Saints & Scholars' homemade Shepherd's Pie mix, cheddar cheese, shredded lettuce, pico de gallo, and sour cream.
The nachos had a really unexpected flavor, but it was good! The heavy shepherd's pie, with the fresh pico made for a pretty great combination. The fusion of different global foods, was something that really set them apart.
Fish N' Chips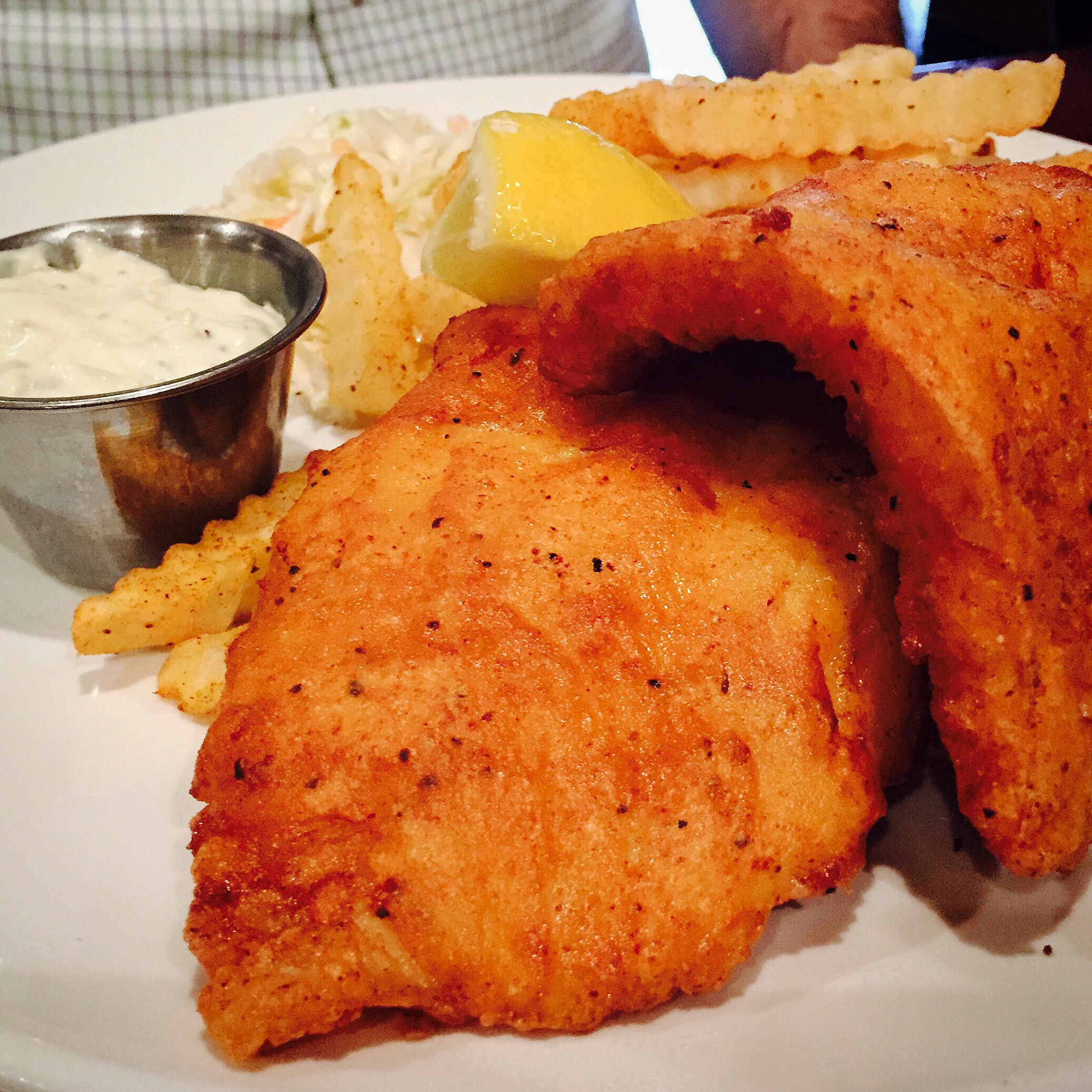 Cost: $12.99
The Fish N' Chips consisted of cod fillets covered in a house batter and fried. The meal was served with fries, cole slaw and homemade tartar sauce.
The fish was really really good. It was a very large portion of fish- better than I've had in the past 10 years in getting fish and chips at any other restaurant. Actual fish was there, not just fried bread. The fries were okay- nothing special.
Bangers N' Mash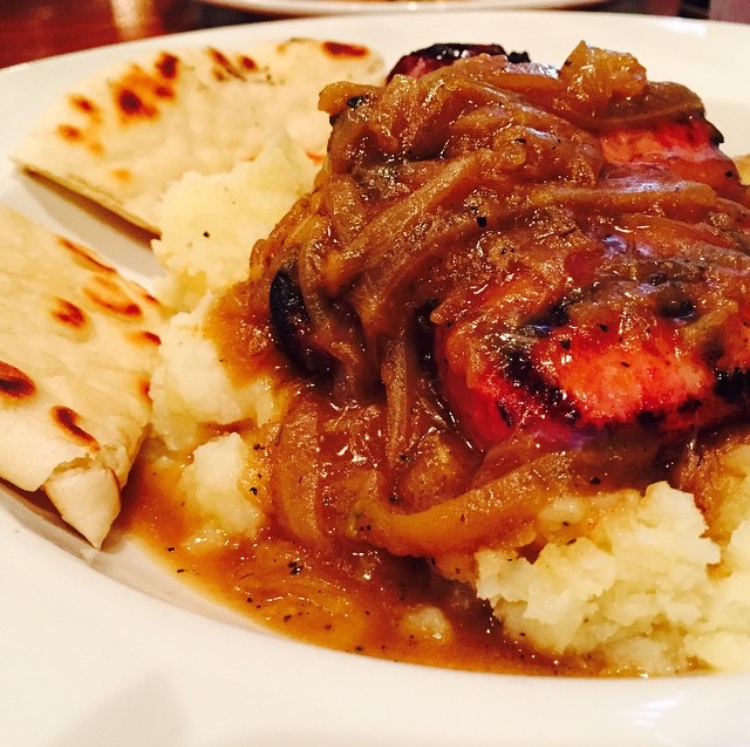 Cost: $12.59
The Bangers N' Mash consisted of grilled Keilbasa sausage served over garlic mashed potatoes and topped with a caramelized onion gravy. It was served with two slices of warm pita bread.
I thought it was odd that it was served with pita bread, but that didn't really matter; this dish was DELICIOUS. Really flavorful. I only wish that they served it with some sort of green veggies to make me feel less guilty. I ate this on an empty stomach and STILL had a hard time finishing it. Definitely bring your appetite!
Overall, we were pretty pleased with Saints & Scholars. It's a great spot for a more relaxed business lunch, or to grab a few drinks with friends. Each of us was pleasantly surprised at how flavorful and fresh each of the dishes tasted, and while the presentation was somewhat simple, there was no mistaking the bold flavors of the meals.
The only regret that we had was that we were too stuffed to squeeze in dessert. The Irish pub boasts homemade desserts made fresh daily, and the options sounded mouthwatering. We won't tell you what they were; you'll just have to stop by to see for yourself.
Total (for 3 adults): $40.05*
*does not include tip