Located at 6123 Capital Blvd, Raleigh, NC 27616, Panera Bread is one of the most popular go-to spots for breakfast and lunch. This particular PB location is especially popular given its proximity to I-540, the Triangle Town Center Mall, and the fact that it is right off of Capital Boulevard. It's easy to get to; and recently, they added a drive-thru window.
In the mornings and during peak lunch hours, expect a crowd, expect noise, and expect that drive-thru window to be backed up. After 2 p.m., you've got the whole place to yourself (for the most part).
Atmosphere
The atmosphere can be described as laid back and casual. On any given day, or at any given time, you can expect to see everything from families with small children to stuffy suits, to business meetings, to long-time friends grabbing a bite to eat. This location sees a lot of foot traffic, so as a result- things are slightly worn down on the inside. However, the restaurant still maintains a relatively clean interior and presentation.
In front of the restaurant, there are a few tables with chairs set up under a short awning. If it's raining, you may want to move things inside as you'll still stand a chance of getting wet. Also, because this PB location is right off of Capital Boulevard near the intersection of I-540, you'll have to contend with the noise from the traffic. The parking lot also shares space with other retailers, so there is always a constant flow of cars going in and out. In other words, don't expect a completely serene, relaxing atmosphere.
Chipotle Chicken Panini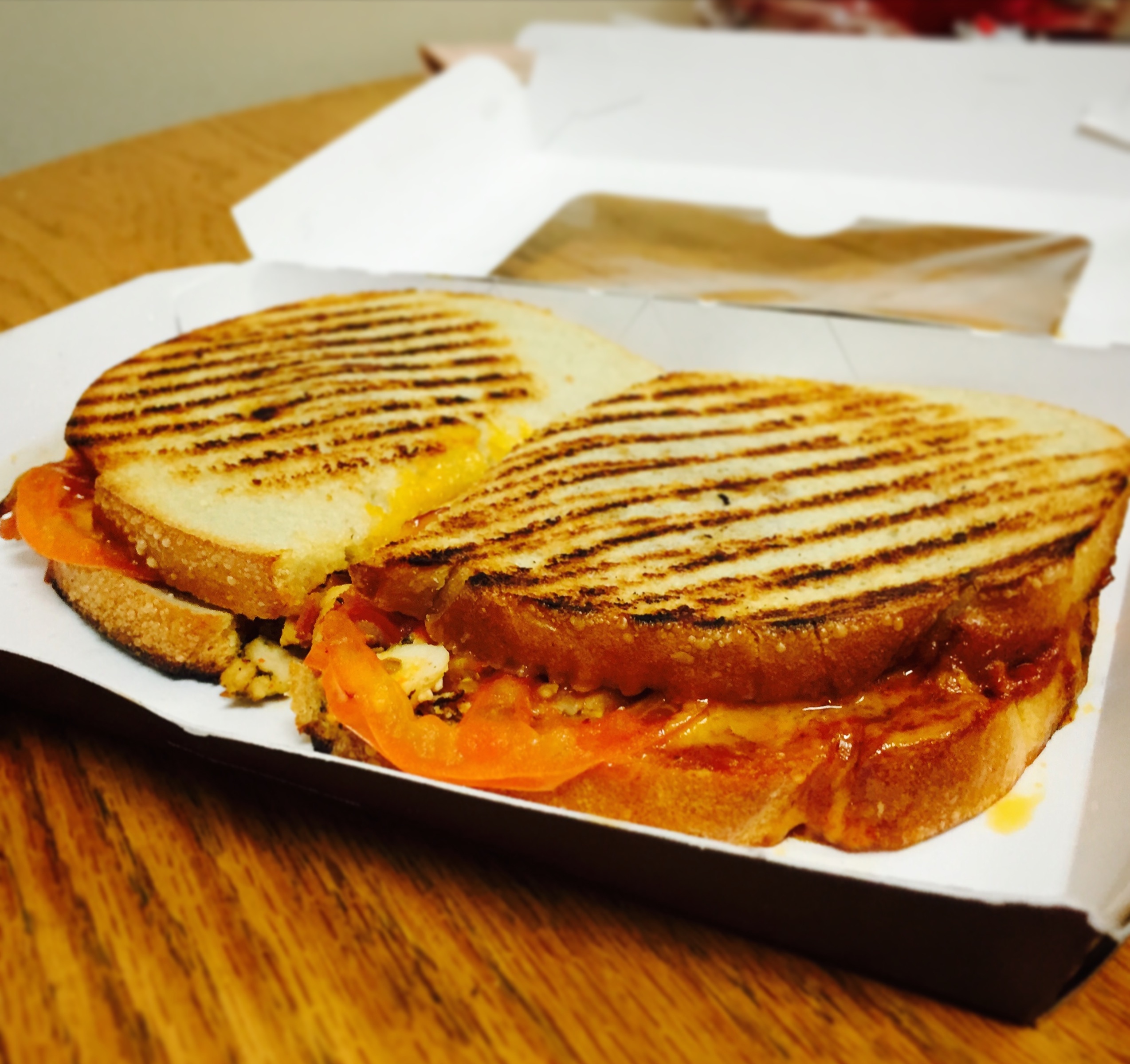 Cost: $7.69
This lunch dish consists of chicken raised without antibiotics, applewood-smoked bacon, smoked cheddar cheese, vine-ripened tomatoes and ancho-chipotle spread all grilled on our freshly baked French Bread. It's available in whole and half sizes.
The chipotle chicken sandwich is my favorite. The chicken is great and juicy, and the chipotle sauce is what makes the sandwich. The cheese is SO good and complimentary!
Broccoli Cheddar Soup + 1/2 Greek Salad + Apple (You Pick 2)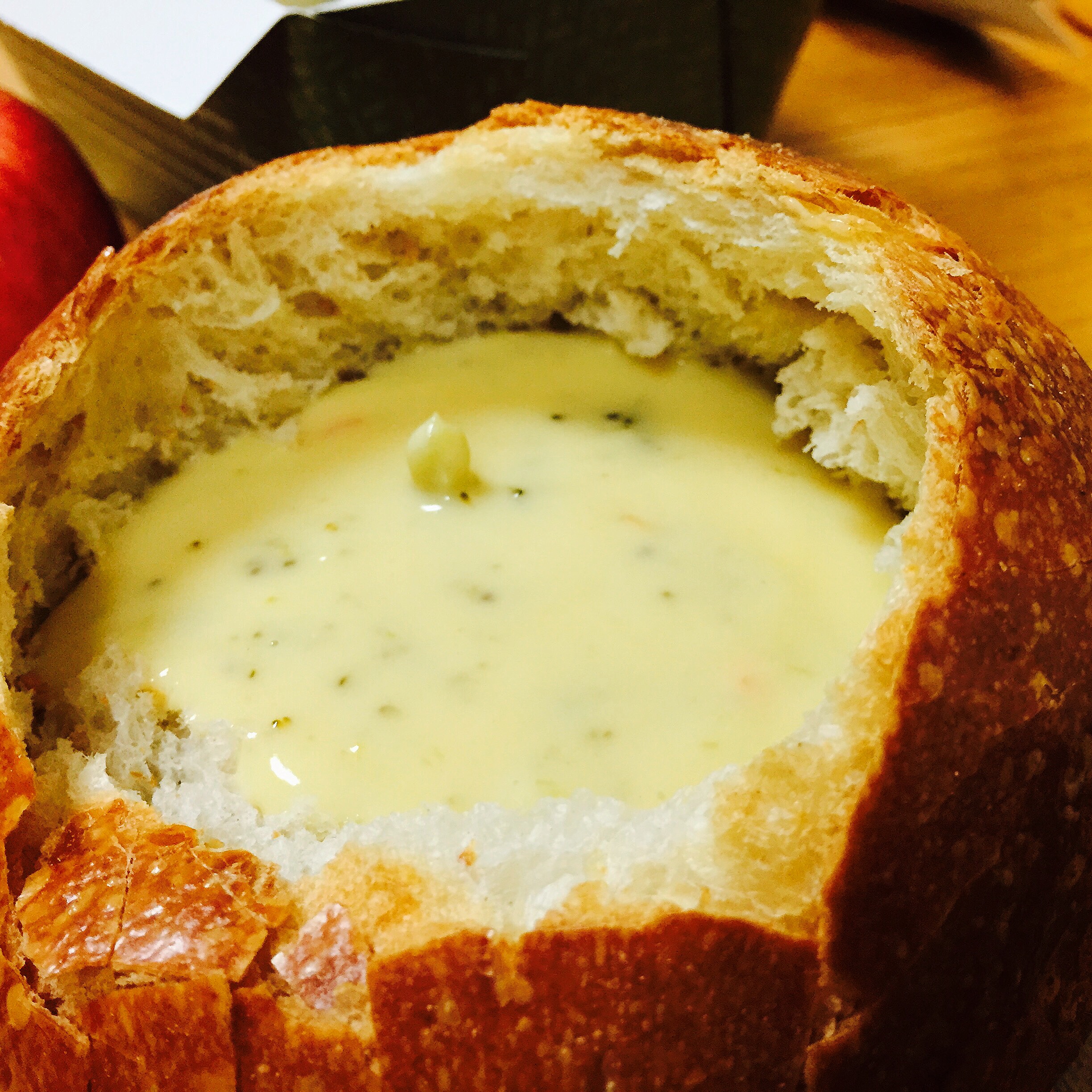 Cost: $4.69 + $3.59 (salad)
The Broccoli Cheddar Soup consists of chopped broccoli, shredded carrots and select seasonings simmered in a velvety smooth cheese sauce. It's available in a cup, or you can opt for a bread bowl (pictured above).
As for the salad – the Greek Salad contains romaine lettuce, vine-ripened tomatoes, feta cheese, peperoncini, red onions, kalamata olives and pepper tossed in our Greek dressing. It's a great option for the "Pick 2" side.
I love the salads at Panera. It was a good, standard greek salad. The vinaigrette was well seasoned, and all of the vegetables seemed fresh. Because I ordered my soup to go, the bread bowl was served separate from the soup to prevent it from getting soggy- which I appreciated. The soup was not too thin; it was a good, hardy texture. The bread was fresh.
Roasted Turkey & Avocado BLT + 1/2 House Salad + Chips + Hot Tea (You Pick 2)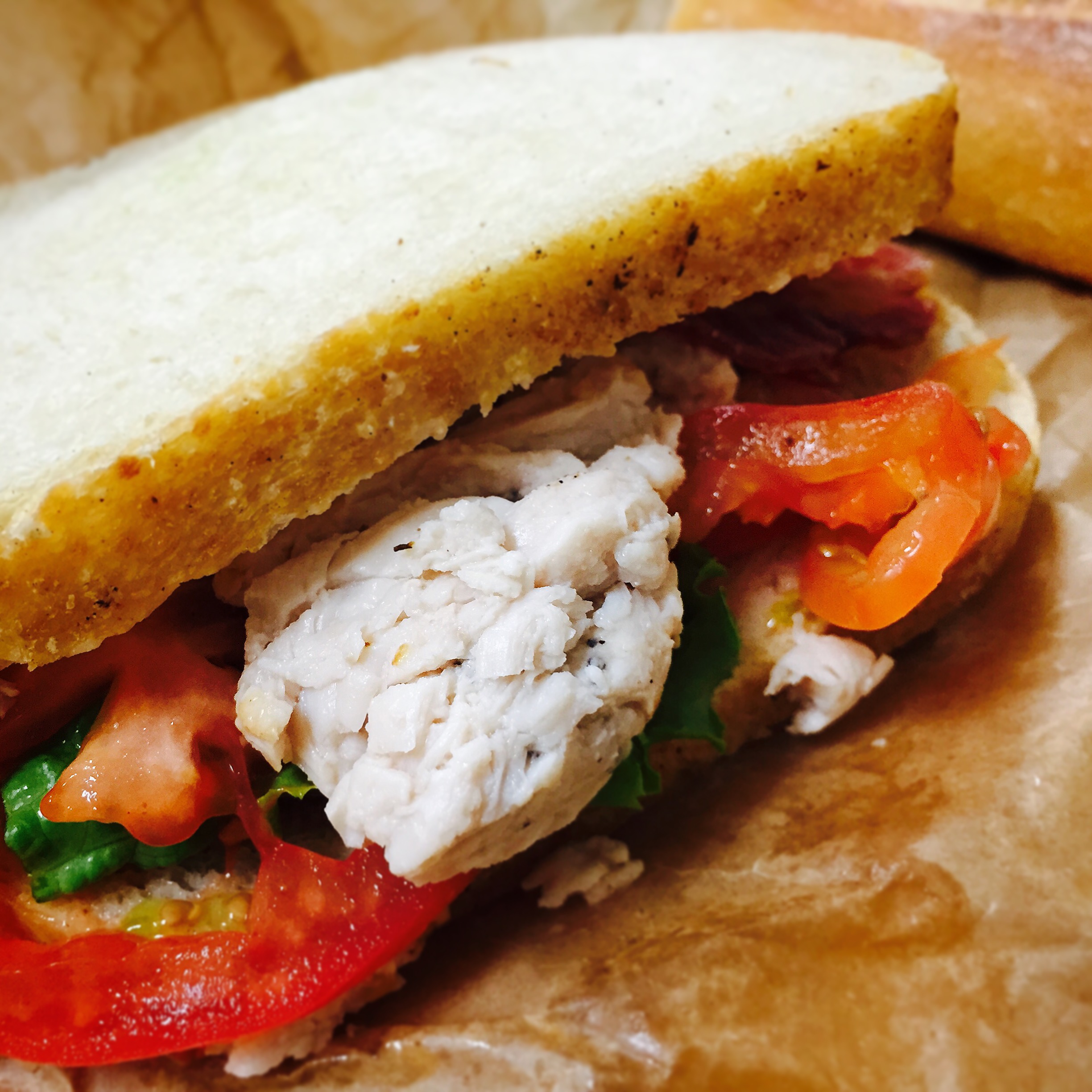 Cost: $4.99 + $3.59 (salad) + $1.69 (tea)
Panera's Roasted Turkey & Avocado BLT sandwich is made up of roasted turkey (raised without antibiotics), applewood-smoked bacon, lettuce, vine-ripened tomatoes and fresh avocado with reduced-fat olive oil mayo on our freshly baked Sourdough Bread.
This is one of my favorite sandwiches at Panera. It's also one of the healthiest options on their menu. The bread was a great texture- not stale, and not soggy. I liked that they listened to me when I said 'No mayo'. Sometimes when it's really busy at a restaurant, details get lost in the mix, so I really appreciated the attention to detail. The salad was just ok. It didn't look or taste as fresh as salads that I've had from Panera in the past. Again – not a huge deal. Overall, the half sandwich combo was the perfect portion size for me.
Pastries & Sweets

Cherry Danish (not pictured)
Cost: $2.59
If there is one thing that Panera Bread is known for – it's the selection and quality of pastries that they offer. The Cherry Danish is a freshly baked pastry made with Panera's 'special' recipe pastry cream, topped with whole cherry filling and white icing.
The cherry danish was fantastic. It was perfectly made, and it had perfect proportions of sweet cheese, cherry topping, and sugar topping. It was baked perfectly.
Carrot Cupcake
Cost: $2.59
The carrot cake was well-spiced, and moist. The filling was amazing. It had cream cheese, but not too much sugar. The icing was good, but the cupcake had probably been sitting out a while, because the icing was a bit hard on the outside.
Orange Scone
Cost: $0.99
Panera's freshly baked scones are made with flour, butter, brown sugar and orange peel and topped with orange icing.
I LOVE Panera's orange scones. It's best when you get there first thing in the morning when they're fresh baked and still warm. However, the flavor was still great.
Total (for 3 adults): $34.92*
*does not include tip