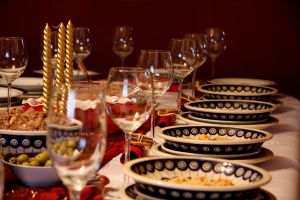 We all know the traditional scene for Christmas-dinner. It goes something like this:
Norman Rockwell-type family, sitting around a table with ham, turkey (or both!) and stuffing, mashed potatoes, gravy, cranberry sauce, pies, you name it… and everyone looks like they're about to devour everything on that table while a cheery fire crackles in the background.
For some of us, however, Christmas is just another day to not eat more than our bodies were designed to eat in one sitting. Others just try to avoid "that side of the family" and make other plans to avoid the in-laws. Whatever your traditions or plans, face it: you gotta eat on Christmas day.
So if you aren't eating in but prefer to eat out, do you drive around town looking for lit-up "OPEN" signs? Do you have a favorite place you hit up every year?
We want to know! Tell us where you plan on eating out this Christmas in North Raleigh, or places you've found to be open on Christmas day.