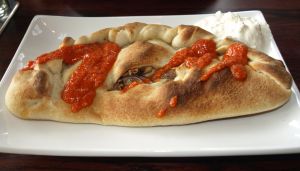 On Saturday night, we wanted some calzones!!! We decided to hit up Stromboli's on Spring Forest Road, where we've eaten a few times before and found their food to be pretty good.
When it comes to hit-or-miss food experiences, Saturday night was a miss! We called ahead and ordered a calzone with pepperoni and sausage. The wait time was about 25 minutes so we hung out at the house for a bit before meandering over to the restaurant.
Stromboli's was hopping with customers, both dine-in and carry-out. We had to wait an extra 15 minutes to get our food, but we didn't get bent out of shape since there was a large group eating-in that night. We figured our food would be fresh and hot when we got home either way.
When we got home, we served up the calzone. We were disappointed because our food wasn't very hot at all but barely warm. When we cut the calzone in two, we were again disappointed to see the layers of cheese, pepperoni and sausage were all in one spot of the calzone, leaving about 3/4 of it nothing but the dough. We tried to cut open the calzone to make more of a pocket so we could redistribute the meat, but it didn't work too well.
While the food tasted okay, it wasn't the best dining experience we've ever had. You want your food to be hot and ready to eat, not warm and still needing assembly.
This trip wasn't the best, but we'll still give Stromboli's another shot since we have had better times in the past.