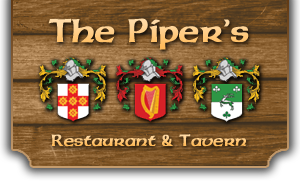 A fun place to eat with decent food, Piper's Tavern is one of our go-to places for lunch or dinner.
Piper's Tavern is located at 8304 Falls of Neuse Road. It's a bar and grille sort of place, where repeat business is probably the core of this restaurant's success. They have a live band some nights, and there's always a mix of folks: older or younger couples, families, friends having dinner and drinks together. They have a bar area attached to the main dining room, but it's never too rowdy. Parking can be a little tricky if it's a busy night, but if you are a little creative you can squeeze in somewhere closeby.
I usually order their portobello mushroom sandwich, but today I wanted something different. I opted for their Cuban grille while Mr. Man got their pizza. I wouldn't have thought to get pizza at a bar and grille, but it was pretty good!
My Cuban sandwich was good – not great – but it was good for the price we paid for it. We also got some grilled bbq chicken wings. They were not breaded and the sauce was light, but they weren't too bad! We paid about $30 for dinner and water. Adult beverage prices are comparable to other bar and grilles.
We've always had good service at Piper's and we enjoy the atmosphere. They have special monthly events and a Sunday brunch.
Check out their website at thepiperstavern.com