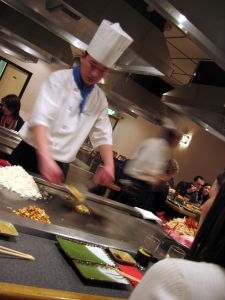 Japanese food was on the menu last night! Since it's a popular restaurant, we decided to make reservations. Good thing because when we arrived, they were already packed out.
There are three Kanki locations in the Raleigh-Durham area; last night we ate at the Old Wake Forest Road restaurant.
The fun begins as soon as you arrive and walk in past a lovely little koi pond just outside the main doors of the restaurant. The interior is decorated with modern fixtures with a twist of old Japan: super-neat samurai pictures and a set of samurai armor.
We wanted the whole show for our Kanki experience, so we waited for a table with a grill ready for making teppanyaki fare. Other patrons opted for the bar area or the sushi bar. The grill tables seat about 8 adults, so you may have to wait a minute for there to be enough guests to fill up one table. Waiting doesn't take long and within a few minutes we were seated with other guests.
Our orders were taken and our hostess brought us hot towels to wash our hands. Two kids at our table ordered cherry cola drinks and were treated to cola with cherry syrup and cherries on top. (It's nice to note that Kanki did not charge extra for these 'specialty' drinks but charged regular drink price).
The sushi menu is quite extensive at Kanki, and there's a nice selection of sake as well. The dinner menu is easy to interpret and diners can chose from hibachi steak, chicken or shrimp for entrees.
I chose the hibachi steak which was on special, and my date ordered sushi and hibachi chicken and shrimp. We were served soup and salad, portions just large enough to get you from "ohmygoshI'mstarving" to "I'm ready to eat!" without filling you up too much.
Our chef arrived with a cart full of meat, rice and veggies. He was really funny and engaging even though he didn't speak much English. He interacted with the children at the table, evoking squeals of delight as he flipped knives and griddle flippers and made an onion volcano complete with pyrotechnics. He made a snowman of rice, cracked eggs in midair and made little jokes throughout. He also tossed a bowl of chopped onions into the air and caught it in the top of his chef's hat. Depending on your chef, some will make rice balls to toss into your mouth, or throw shrimp tails at you.
Everyone gets two shrimp pieces for an appetizer of starts, then a mixture of onions, zucchini and we think cucumber. Next comes the rice and egg combination, then your meat (steak is cooked to order) and finally some grilled mushrooms. You can eat as you go or wait until they've cooked up the entire dish.
What we think may be the best part of the Kanki experience is the yum-yum sauce. We don't know the exact ingredients, but we can say this thin dipping sauce is packed full of delicious yumminess that makes you an instant addict. Your chef will keep your yum-yum sauce (really, that's the name for it) bowl full, as well as another bowl with a ginger/teriyaki style sauce. If you suddenly find you can't live without yum-yum sauce, you can purchase a small mason jar of it.
The portions are HUGE and we all had a hard time finishing our meals. It was delicious however, and we had an enjoyable time. The evening was topped off with Kanki's "dessert shots" which were a pudding/cheesecake/cookie dessert of different flavors served in shot glasses. We tried the mint chocolate and the s'mores flavor and both were delicious.
Entrees cost about $16-19 and kids meals are about $8 each. The entree includes all of the food listed above in a large portion; if you decide to share there is an extra plate cost of about $5-6. My hibatchi steak was on special for $9.99.
The atmosphere is fun, the food is delicious, and the chef's routines are pure entertainment.
If you are sensitive to smoke from grills then you should be prepared for eating at Kanki. There's several chefs cooking up at tables at the same time and even though there are large vents above each table, it can get a little smoky. Also, you share your table with other people if your party isn't large enough to require the whole table. This usually isn't an issue as most people are friendly, but if you aren't feeling social or would prefer a more intimate and quiet dinner with your companion(s) then you may want to alert the staff and see if you can have a table with adults only or other smaller parties, or that you'd like a table without children. (Otherwise, watching the looks on kids' faces is almost as enjoyable as the chefs themselves!)
We were all a little crowded into our places at the table but it wasn't unbearable. Our hostess had an emergency and had to leave before our entrees were served, but the management and other staff all did their best to accommodate our table and other tables with drink refills and getting our checks out.
While eating at Kanki frequently is not in our budget, it is definitely a place we'd eat at for a special occasion or if we were craving some of their delicious food. Kanki is a great place for birthday parties, too, and celebrants are treated with a song from the staff and the birthday person gets a little sweet treat.
Check out Kanki's menu and find a location near you at their website here.