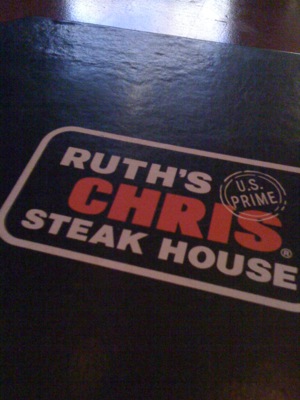 I've been a huge fan of Ruth's Chris ever since my first visit and having tasted the amazing aged Fillet! My latest visit to Ruth's Chris was at the North Hills, Raleigh location this past Tuesday. (The attached pic is from my iPhone.) The staff at this location are fantastic. They also have valet parking if you would like. Most of the time you can find just as good a spot right out front. However, you're celebrating a special occasion or the restaurant is busy, valet may be a good idea. Don't forget to tip!
I was flying solo the evening I dropped in for my mouthwatering fillet, so I decided to just sit up at the bar, which has 2 good sized LCD TV's for your entertainment. Laura was the bartender that evening and was very friendly and welcoming. I enjoyed her company and conversation while I dined. She also came up with a few great new mixed drinks for me to try. It was a short wait while my fillet was cooked up and delivered. Tasty as ever. On another visit, I tried the Cowboy Rib-eye based on friends recommendation. Unfortunately, not a winner as it was a bit over-cooked. I'll stick to the delicious fillet.
I only plan on eating steak when I go to Ruth's Chris. While they have a great menu with lots of options, I am just there for the dead cow.
Make sure you bring your credit card: the fillet and a few drinks plus tip was just under $100 for just me. I guarantee it's a well spent $100!