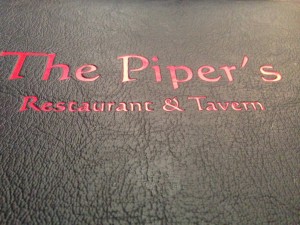 If you're planning a casual night out with the guys, The Piper's Tavern is the place to go. If you're looking for a quiet, classy date spot or a nice venue for a business lunch, look elsewhere.
First Impressions & Atmosphere
Piper's Tavern is located just off of the busy Falls of Neuse Road in North Raleigh. From the outside, it has a fairly casual appearance. There is amply outdoor seating, and plenty of parking (though the parking lot has certainly seen better days). It's a great spot for big groups, and is definitely family-friendly.
One of the first things we noted upon walking in was the smell. It smelled a little like a Port-a-John. The interior lighting was also a bit dark for lunch time dining. At 12:15 p.m., the restaurant had a few people coming in to dine, but it wasn't crowded at all. There were still plenty of seats available. No reservations were required.
Food
Dish #1 – Large Chicken Caesar Salad (with extra chicken) Price : $12.97
The presentation was simple, and the chicken was cooked on the dry side, which is how I actually prefer it. The chicken was hot. However, some of the chicken had a bit too much charring. Also, the lettuce was not particularly green or fresh-looking. One or two pieces looked a little brown. I ate all of the chicken, but I didn't finish the salad due to it not tasting as fresh.
Dish #2 – Chicken BLT (you get the choice of blackened chicken OR regular, grilled chicken) $8.99
The Chicken BLT was fairly good. Similar to the Chicken Caesar Salad, the chicken was a little on the dry side, which took away from the flavor. However, I ordered my chicken "blackened" versus simply grilled. Therefore, it had extra seasonings in it. I'm not sure what the seasonings consisted of, but it definitely added back some flavor that I think would've been missing. The french fries were nice and crisp. Everything was hot, and the presentation was simple yet nice.

Service
The hostess was extremely friendly and prompt. The waiter was also friendly, professional and attentive. Water was re-filled without having to ask, we were checked on every now and then without it being overbearing.
Overall, The Piper's Tavern was a good experience. It's not somewhere we'd recommend for business lunch meetings with prospects, but it's a great venue for families or for the casual diner.