Written by North Raleigh Food, Posted in $$$ - Better budget a little for this, Bar and Grills
Located at 832 Springfield Commons Drive, Raleigh, NC 27609, Kamado Grille is brand new to the North Raleigh restaurant scene. Previously inhabited by Lucky 32, business partners, Tom Allen and Joe Dunn got the inspiration for Kamado Grille from their own backyard cookouts. As such, the fresh-faced restaurant features food cooked on "highly efficient, lump charcoal burning ceramic grills" [source].
Atmosphere

Before you even step foot into Kamado Grille, the view from the outside is impressive. Anyone who may remember what this area looked like pre-Kamado Grille, will definitely do a double-take.
The outside  of the restaurant features plenty of parking, and a larger than life exterior with bocci ball out front, a covered, outdoor patio on the side, and an entry that makes you feel like you're walking into an REI store.
As we walked up, we were immediately  greeted by friendly staff members (who were poised and ready at every entry point to open doors for guests entering and exiting the restaurant).
The atmosphere inside was light, airy, and clean. We received a brief, guided tour of the restaurant where we learned more about the way the food is cooked. There are at least 12 kamado grills, based on the traditional Japanese kamado), which are equipped to cook food at high temperatures for searing as well as low, slow roasting temperatures. Because these grills use charcoal, the food has an especially distinct, more flavorful taste.
Like the way the food tastes, and wish that you could buy your own kamado grill? Well, you can. Kamado Grille has a small, open guest shop area in the front of the restaurant where people can purchase their very own kamado grill on site, as well as purchase other restaurant-related memorabilia.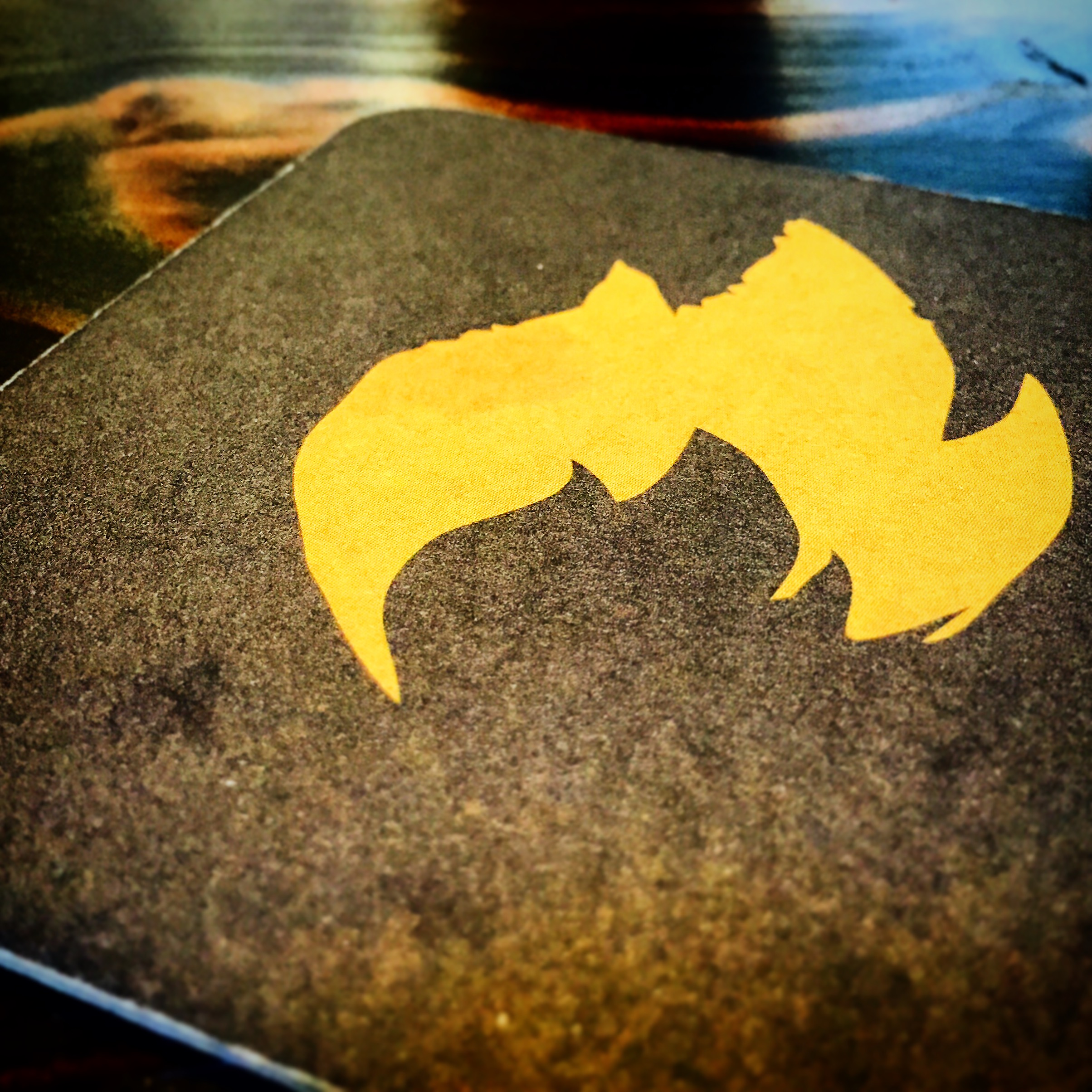 The restaurant also has several, large, flat screen TVs affixed to the walls. The screens feature live feeds of the chefs in the kitchen, preparing food interspersed with nature scenes and other images). There is semi-circular-shaped open bar area which boasts around 40 types of beer on tap, and there is also a separate bar area where you can dine while watching several of the chefs prepare your meal.
The seating is reminiscent of the outdoors and reflects Kamado Grille's desire to 'bring the outdoors inside'. There are evenly spaced pub tables and patio tables. The tables are made of a nice, high quality grain of wood while the chairs are wicker. There are also several black olive trees throughout the restaurant, imported from Arizona – and yes, they are real (we asked).
One of the highlights, however, is the fact that you can order your food sans waiter. Each table features an iPad where diners can select everything from speciality beverages, and refills on fountain drinks to ordering your appetizers, customizing main dishes and splitting checks. We found the iPad menu easy to use, and the service exceptionally fast.
Appetizer – KG King Wings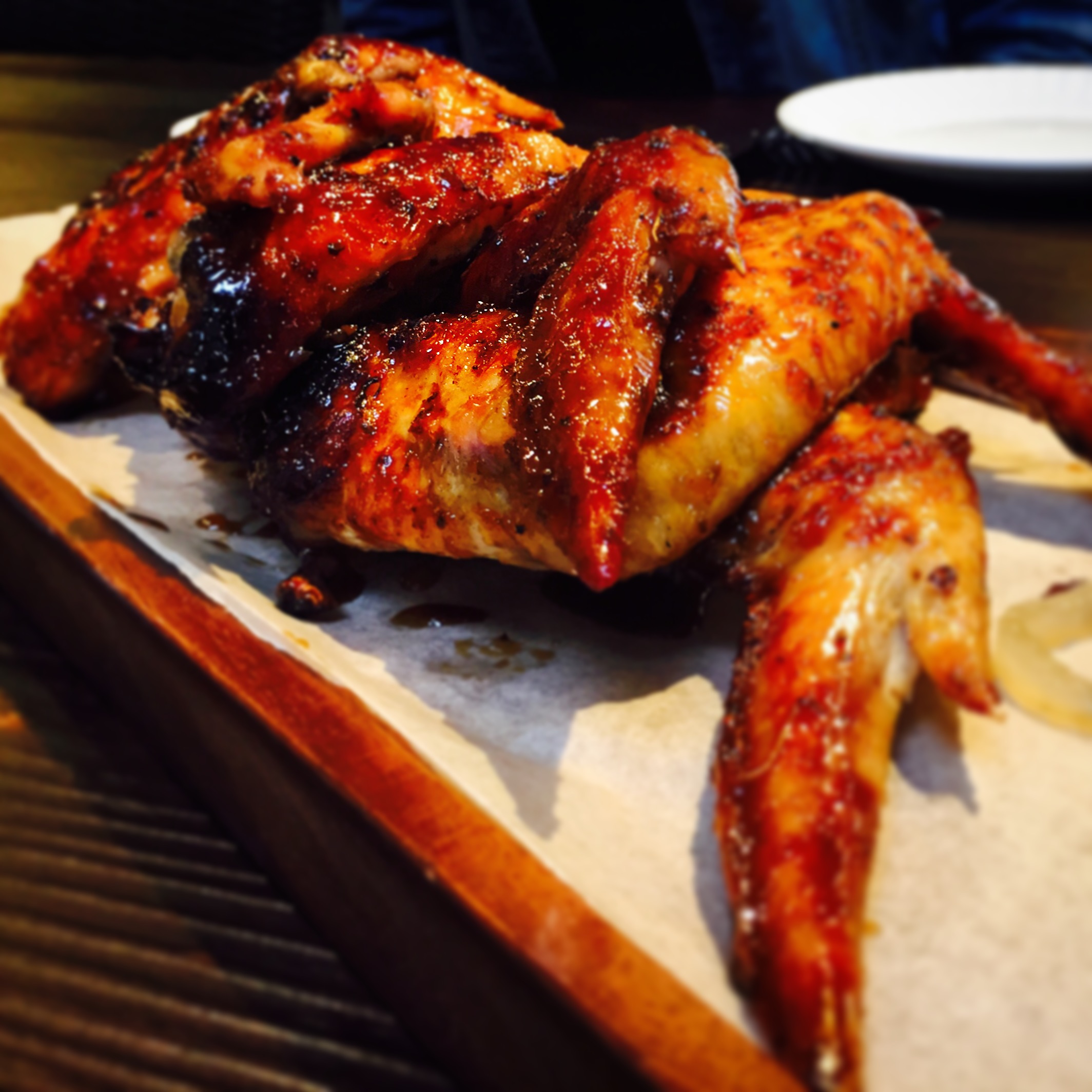 Cost: $9.50
The KG King Wings consisted of speared, smoked and grilled wings tossed in Bourbon teriyaki glaze and served with a side of ranch sauce.
These wings were absolutely fantastic. I'm typically not a wings person, but these were perfection. The combination of that glaze plus the fact that the chicken was cooked just right (not too overcooked, but well done and juicy) – delicious. I could've just ordered this and have been happy.

The wings were awesome. The meat practically fell off the bone, they were tender and juicy – and the teriyaki glaze was out of this world.

The wings were good, messy since they were all 'together'. The sauce was great; the charred flavor was perfect, not too much. I just wish they had offered us some wet naps with this appetizer since wings, in general are messy.
Ipswich Lobster Roll + Sweet Tea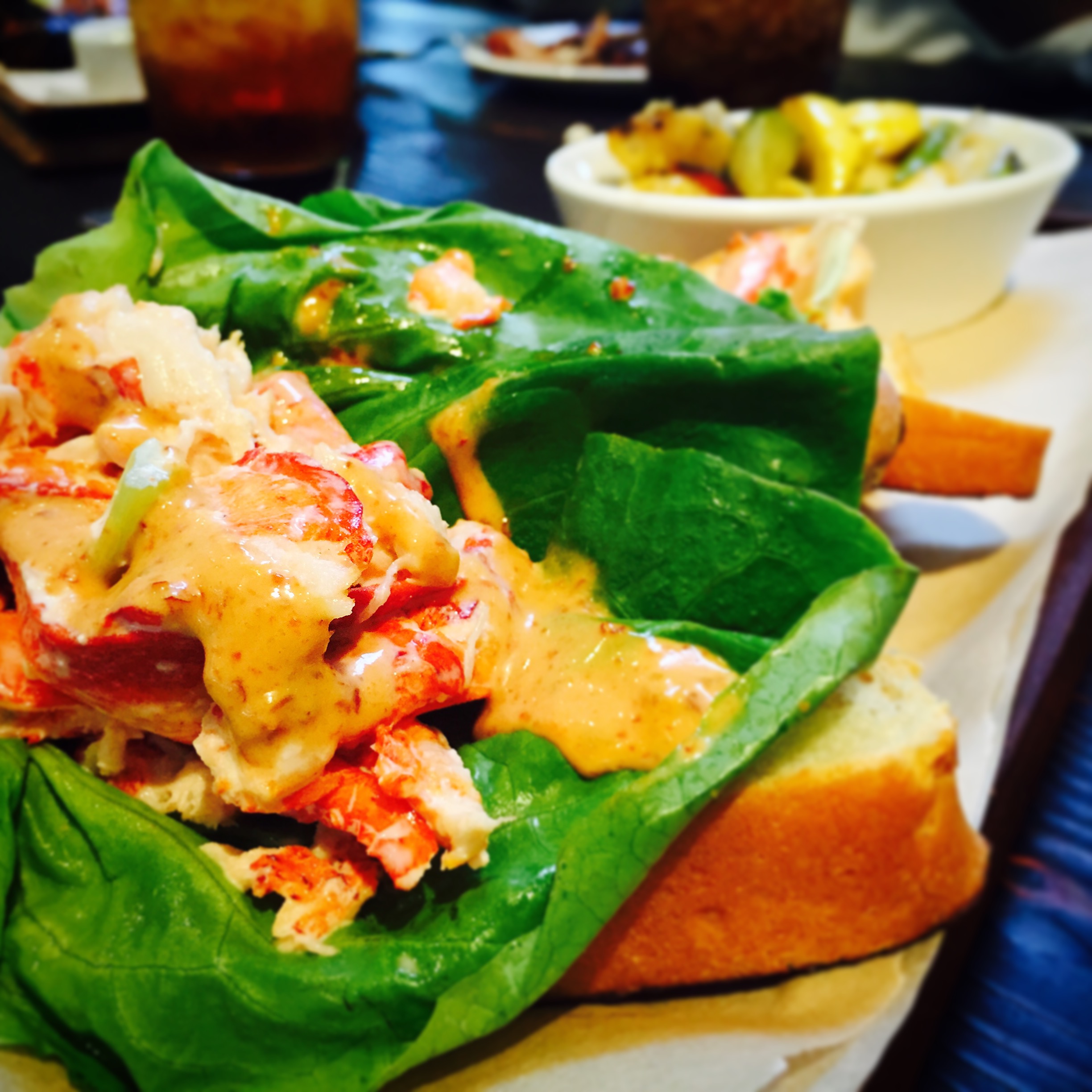 Cost: $14
The Ipswich Lobster Roll consisted of fresh lobster roll, lobster meat, KG sauce, lemon juice, celery, and romaine served as an open sandwich.
This meal was definitely more than enough for one person. In fact, it was such a huge serving, that I wound up saving the other half and taking it to-go. The lobster tasted incredibly fresh, and I loved the flavor of the sauce with the lemon juice and celery. I wasn't crazy about the side of veggies that I ordered though. They were labeled as "grilled veggies" in the menu. However, they tasted weird – like soggy and stale or something. The rest of the meal was fantastic though.
Reverse Seared Pork Bomb + Gingerale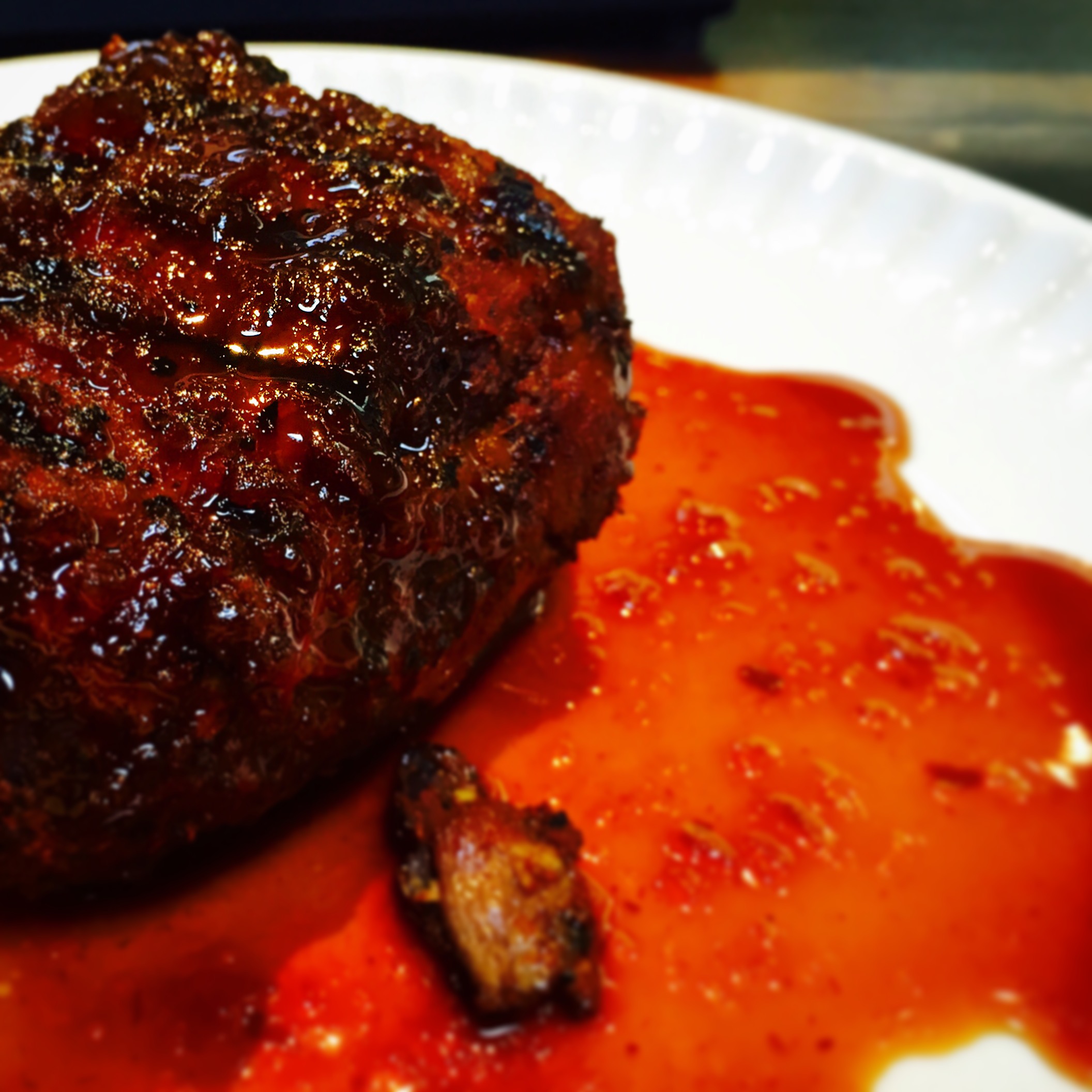 Cost: $16.50
The Reverse Seared Pork Bomb consisted of german reverse seared pork shoulder fillet with sweet bourbon glaze.
Like the name suggests, this dish was "the bomb". The pork was SO incredibly tender and juicy. The blend of flavors between the pork, the charcoal grill flavor, and that bourbon glaze….I literally have no words. I would absolutely order this meal again in a heartbeat. The only thing I didn't like at all was the side of grilled vegetables that I ordered. I took two bites and left it alone. The flavor was off – like the veggies were prepared by reheating some frozen vegetables several times in a row and then letting it sit. Also, the veggies were soggy tasting and lukewarm at best. The pork more than made up for this though.
St. Louis Style Ribs + Coca Cola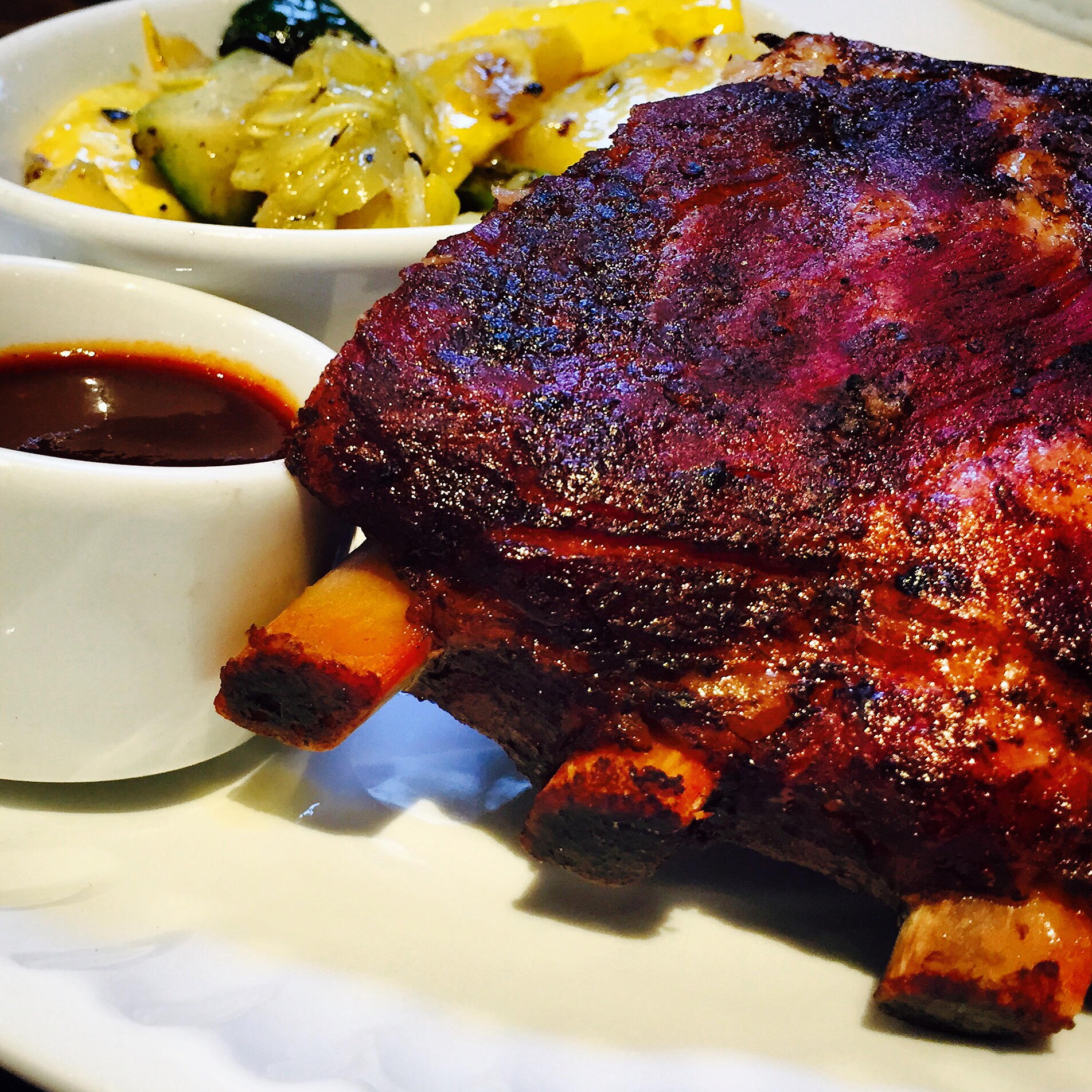 Cost: $16.50
The St. Louis Style Ribs consisted of a dry rub, cooked low and slow with Apricot Chipotle BBQ sauce.
The ribs were good – fall off the bone. They seemed a little fatty, but the sauce was great. The side of veggies was bad, or maybe just whatever they put them in? The oil? I did not like the taste. 
White Chocolate Bread Pudding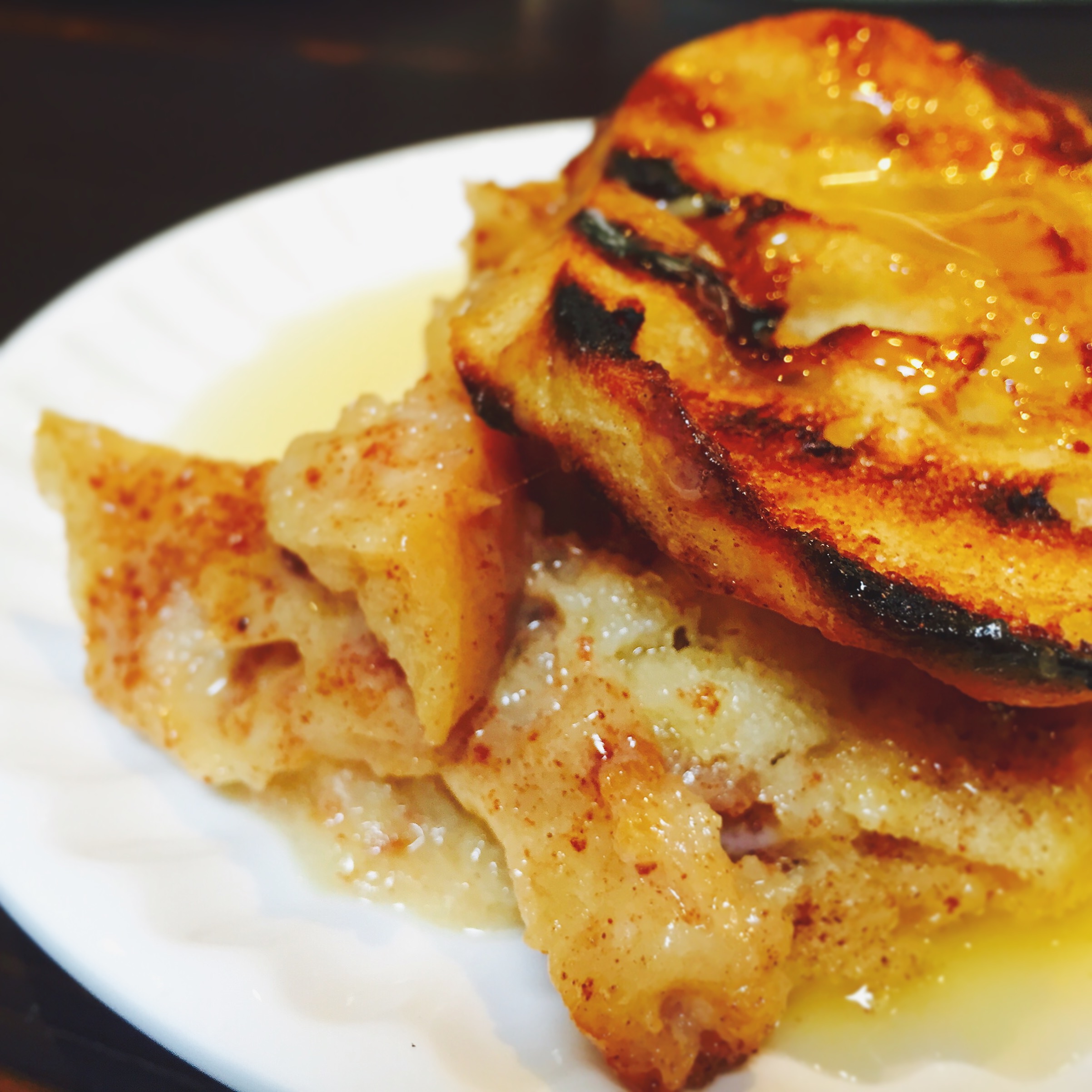 Cost: Complimentary
The White Chocolate Bread Pudding featured homemade bread pudding topped with Jenny's Bourbon dream sauce.
I loved this flavor. I just wish that the top layer of bread wasn't quite as hard; I wish it was easier to bite into (like the rest of the dessert). The sauce and overall presentation were great, however.

Desert was good. I probably would not order again, but it was good. It tasted very custom.
Kamado Grille is a little on the pricey side. You're definitely paying for the atmosphere; however, the food is just as delicious as it looks. You can definitely tell that quite a bit of work and thought went into Kamado Grille, and it shows.
Details such as high, vaulted ceilings with ample, natural light, to flat screens that give diners an inside, behind-the-scenes look at their food preparation, to how meticulously the dishes are presented – this is a restaurant that we would certainly recommend trying. Kamado Grille certainly brings a freshness to the North Raleigh food scene, and we are undoubtedly grateful.
Total (for 3 adults): $65.91*
*does not include tip